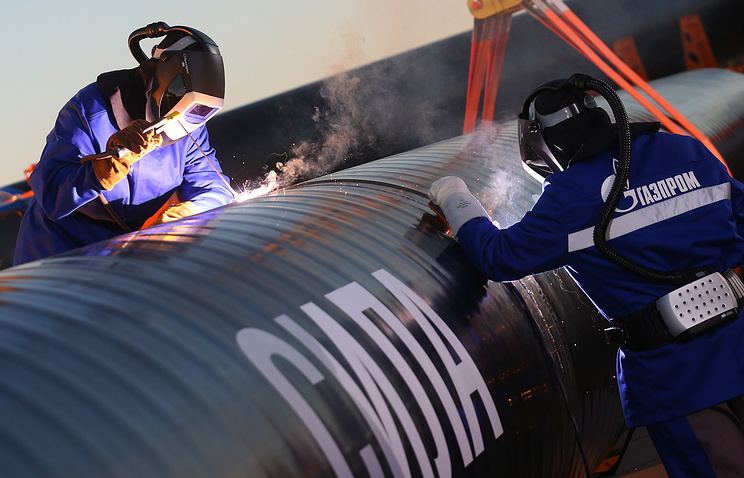 The price of natural gas supplies from Russia to China over the Eastern and Western Routes will differ, Board Chairman of China National Petroleum Corporation (CNPC) Wang Yilin said on Thursday on the air with Rossiya 24 TV Channel.
"It's difficult to compare Eastern and Western Routes. The Eastern Route project is closer to the sales market in China while the Western, on the contrary, is at a very big distance. Furthermore, we have fully established the accounts base on the Eastern Route but the market on the Western Route is still to be captured. Therefore we should discuss the cooperation model together with the Russian side in terms of sharing benefits and risks of this project. As far as the price is concerned, it will be different most probably yet determined according to market principles in any case", Wang said.
The Western Route project is no less important for China than the Eastern One, Wang Yilin said. However, there is a dramatic difference between them, not merely in terms of geographic location of the route but by the target market, most importantly. CNPC and Gazprom experts are holding consultations offline to develop the cooperation model for this project," he added.
The western route stipulates the delivery of 30 bln cubic meters through the pipeline from the Yamal-Nenets Autonomous District through the Altai region to the northwest of China within 30 years. For this purpose the Altai pipeline transport system will be constructed to run across the highly mountainous area of the Altai region in West Siberia to be further extended to the Russian-Chinese border. The plan is to launch direct supplies in 2019.
The eastern route implies the development of new fields in Eastern Siberia, firstly Chayanda field and Kovykta gas field. The Power of Siberia gas pipeline is going to be built starting from these fields, which later will be connected with the gas pipeline Sakhalin – Khabarovsk – Vladivostok. A branch pipe to China will be built near Blagoveshchensk. The eastern route stipulates the supply of 38 billion cubic meters of natural gas to China annually within 30 years. The project is worth $400 bln. First supplies are planned for 2018-2019.