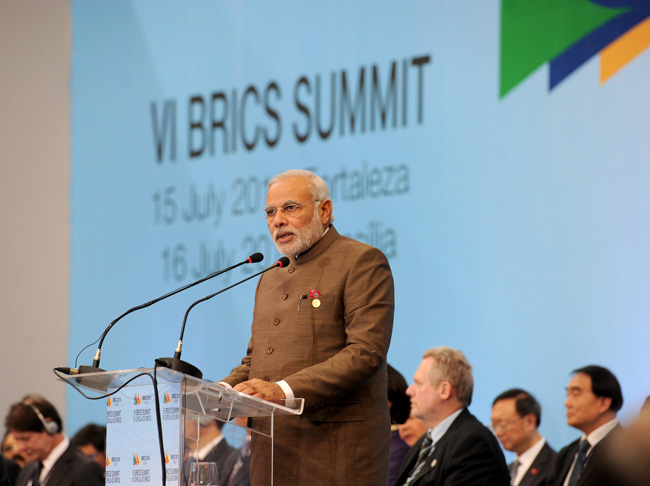 NEW DELHI: Narendra Modi's fourth visit to the USA in two years notwithstanding India is pulling out all stops to build Brand BRICS as it plans to host a series of key forums and meets outside the national capital to popularise this grouping of major economies in the run-up to the 8th edition of the summit in mid-October in Goa.
Even as it puts in place a robust partnership with Washington that would get additional momentum with Modi's proposed visit to USA in June, Delhi is conscious to equally develop its relations with other UN Security Council permanent members — Russia and China and emerging powers South Africa and Brazil — in what can be described as an exercise to counter the argument of Delhi's pro-US tilt.
With this goal in mind, the Modi government has planned a plethora of forums, workshops and meets beyond the national capital across sectors including sports, wellness, women and youth power, digital world and startups and urbanisation, to name a few. Official sources familiar with the developments told ET that the idea is to popularise a major foreign policy concept across the country.
"This is the vision of the PM as he is keen to increase the stakes of Indian states in a major foreign policy forum. Modi's emphasis is on building the brand BRICS that also helps in branding India's strengths and diversity," quipped a person familiar with the developments.
India last hosted BRICS Summit in 2012 in Delhi. Being held on October 15-16 in Goa, this is the first occasion when BRICS or for that matter a global summit is being held outside India's national capital on the lines previous summits being held in lesser-known cities of Russia, China and Brazil.
The Modi government has drawn up an ambitious agenda ahead of the summit that will see participation of experts, officials and civil society members from all four other member states of the grouping. Respective state governments will be partnering the centre in hosting the forums and conclaves, officials pointed out.