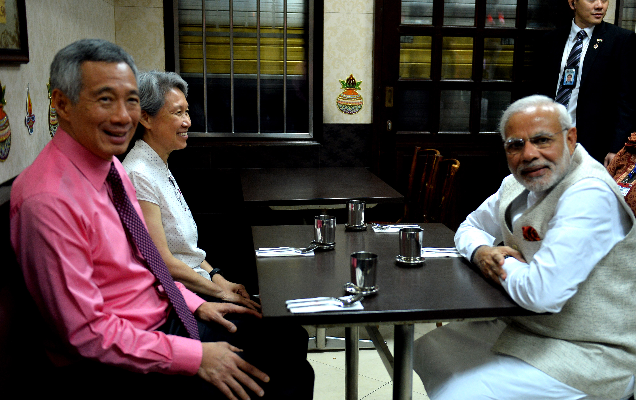 Prime Minister Narendra Modi on Tuesday invited investors to participate in the proposed divestment of Navratna PSUs and sought the Singaporean government's help in building at least 20 smart cities.
In wide-ranging discussions with Singapore leaders, including its Prime Minister Lee Hsien Loong and President Tony Tan Keng, Modi stressed on the idea to 'create many Singapores' within India. He also pitched for issuance of rupee bonds and infrastructure bonds in Singapore.
Besides, Modi sought faster completion of Regional Comprehensive Economic Partnership (RCEP) to create a new economic block within Asia.
The Prime Minister also invited his Singaporean counterpart to visit India, especially Gujarat to see with his entire family the Asiatic lion, which forms part of the symbol of Singapore.
Singapore sought doubling of flights to India while Modi wanted the city-state to play a key role in upgradation of railway stations in India.
At the media briefing about Modi's meetings, Secretary (East) at the Ministry of External Affairs Anil Wadhwa said there were broadly 14-15 key issues including skills development, urban development, tourism, civil aviation and financial services, that were discussed in the meetings the Prime Minister has had here.
"The disinvestment of Navratna PSUs also was discussed and Modi invited Singapore companies to take part in the disinvestment of these companies," he said.
India is looking at selling stakes in Public Sector Undertakings to raise around Rs 70,000 crore in the current fiscal. PSUs are classified into three categories – Maharatna, Navratna and Miniratna – mainly based on financial criteria to give them greater operational autonomy.
Wadhwa further said: "The talks covered a wide range of areas including defence and services, culture, economic cooperation and financial services. Singapore also returned a statue of Uma Parmeshwari, which belonged to India." According to him, Prime Minister said that if 'Make in India' is to succeed then skills upgradation is very important.
"Prime Minister also said that Singapore can contribute a lot in urban development in India. The government has announced plans to build 100 smart cities and Singapore can work on building at least 20 of them," he said.
At the briefing, the Ministry of External Affairs spokesperson Vikas Swarup said the Prime Minister was asked last night by his Singaporean counterpart to come for an 'impromptu dinner' to a restaurant in Little India and to see the Diwali lights in that area.
Wadhwa said the restaurant is frequented by the common man and Singapore PM said he had visited that restaurant 30 years ago and still remembered that.
"He enjoyed the dinner with our Prime Minister. Both the leaders enjoyed the spicy South Indian meal," Wadhwa said.
"The two leaders also discussed the emergence of social media in the context of the selfie that was clicked in the restaurant," he added.
According to Wadhwa, the two leaders talked about Amaravathi, the new capital of Andhra Pradesh being built with help from Singapore. "Modi said that the UP government has proposed to build a new holy city in the state and Singapore can explore working with UP government on that project. He also talked about creating many Singapores in India," he said.
On financial services, they discussed how the banks from the two countries can work with each other. The issuance of rupee bonds in Singapore as well as the possibility of infrastructure bonds were discussed. Joint production in defence sector was also deliberated upon.
"Another focus area was civil aviation and Singapore Prime Minister asked whether the sector can be further opened up, given Singapore being an advocate of open sky policy.
Doubling of the flights from Singapore to India was also discussed.
"Modi said India will soon come out with its new aviation policy where a lot many issues would be covered including for increasing the connectivity including to the Buddhist circuit," Wadhwa said.
When RCEP negotiations came up for discussions, Modi said India was keen for an early conclusion to create a new block in the Asian region. Railways also came up for discussions and Modi said at least 500 rail stations are to be upgraded in public-private partnership and Singapore can certainly play a key role there.
Separately on a question about the prevailing issues in Maldives, Swarup said: "Importance of political pluralism has been part of India-Maldives ties" and the foreign ministers of the two countries have discussed various issues in their recent meetings.
Signalling the focus on technical education, Modi also visited Institute of Technical Education (ITE), which is located in the parliamentary constituency of the Singapore Prime Minister.