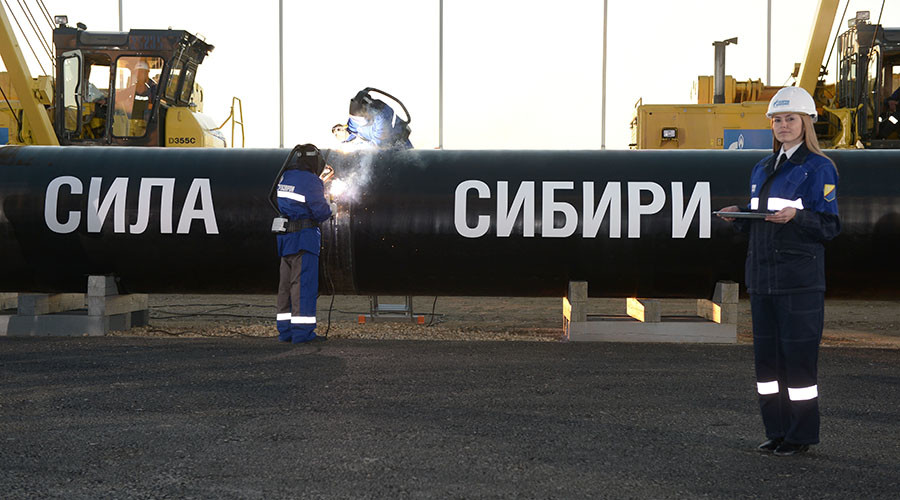 The Power of Siberia gas pipeline, or the so-called eastern route, which is to deliver Russian natural gas to China, will become operational by 2020, according to China National Petroleum Corporation (CNPC) Vice President Xu Wenrong.
"The Russia-China gas pipeline will be put in operation in 2019, in 2020 at the latest," he said, speaking on the sidelines of the St. Petersburg International Gas Forum.
The pipeline construction is on schedule, Russia's ambassador to China, Andrey Denisov told reporters on Tuesday.
The Power of Siberia pipeline is one of the biggest Russia-China projects. The deal took more than a decade to negotiate. In May 2014, Gazprom and CNPC signed a $400 billion 30-year framework to deliver 38 billion cubic meters of Russian gas to China annually. The pipeline is scheduled to begin delivering five billion cubic meters of gas to China in late 2018.
According to Gazprom, 115 kilometers (71 miles) of the pipeline's 3,000 kilometers across Russian territory were constructed in 2015. Another 400 kilometers are planned to be completed in 2016.
CNPC plans to build up to 80 kilometers of pipeline on the Chinese side of the border this year. The cross-border section of the Power of Siberia gas pipeline includes an underwater section to cross the Amur River.
Russia will be one of the main providers of the natural gas increasingly needed by China. The two countries plan to build another pipeline – Power of Siberia-2 or the western route that will deliver another 30 billion cubic meters of Russian natural gas to China.
Beijing may increase imports of gas from the current 53 billion cubic meters per year to 190-270 billion as it aims to shift from coal to eco-friendly energy, said CNPC International Department head Li Yueqiang last month. According to him, last year China used 200 billion cubic meters of gas, of which a quarter was imported.