Petrobras announced on Wednesday, April 1st, that it has obtained a financing contract with China Development Bank (CDB) for US$3.5 billion to be disbursed during 2015 and 2016. According to analysts this financing credit is likely to relieve some of the financial pressure on Brazil's oil giant, which has found it difficult to obtain foreign credit due to the widespread corruption scandal that erupted last year.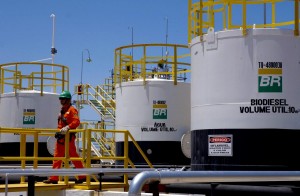 The agreement, between CDB and Petrobras' subsidiary Petrobras Global Trading BV, was signed during a visit by the oil giant's director for Finance and Investor Relation, Ivan Monteiro, to the Asian country. The company also stated that the two entities plan to develop new projects in the near future."This contract is an important step for the continuation of the strategic partnership with CDB, strengthening the synergies between the economies of the two nations," stated Petrobras' announcement.
The deal also comes just days after Brazil's President Dilma Rousseff had announced the country's participation as founding member of the Asian Infrastructure Investment Bank, which is seen as a China-led alternative to the World Bank.
Petrobras has been facing the worst crisis in its history since a widespread bribes-for-contracts scandal broke out last year, with former company directors being accused of taking millions of US dollars in kickbacks for fixing contracts.
Federal prosecutors have arrested dozens of executives from Brazil's largest construction and engineering firms as well as several top former Petrobras executives. Some former executives have agreed to cooperate with prosecutors in exchange for reduced sentences.
Since the scandal, Petrobras' situation has been deteriorating. The company twice delayed releasing its third quarter earning until the beginning of 2015. The balance results, however, were not audited by the company's independent auditor (Price Waterhouse Coopers- PWC) and did not register the losses expected due to the corruption scandal.
In early February, Petrobras CEO, Maria das Graças Foster along with five of the board's top executives, resigned. Later that month, Moody's downgraded the company's ratings to junk status.