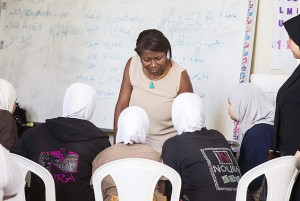 Surrounded by a withering economic crisis, the billowing Petrobras corruption scandal, a kick-in-the-teeth credit rating downgrade, and even the looming spectre of potential impeachment, Brazil president Dilma Rousseff must have been delighted to be able to send a positive message this week.
"Even in moments of difficulty and crisis, like we're going through now, we have to welcome refugees with open arms," she said in a message delivered via social media on Monday, Brazilian Independence Day. "I want to use today to reiterate the willingness of the government to receive those who, expelled from their homelands, want to come here and live, work and contribute to the prosperity and peace of Brazil," she continued.
Citing the image of the lifeless body of Aylan Kurdi, the three-year-old Syrian boy who was found washed up on a Turkish beach, Rousseff also said that the world was facing a "humanitarian tragedy".
Official figures say that Brazil is currently home to 2,077 Syrian refugees, representing 25% of the total number of refugees in the country and more,according to a BBC Brazil report, than the USA and a number of European countries have taken in. The number of refugees in Brazil has doubled in the last four years, rising from 4,218 in 2011 to 8,400 today.
The total has been boosted by a government policy to relax entry requirements for Syrian immigrants for "humanitarian reasons", with those arriving in Brazil no longer needing to provide evidence of employment or means of financial support. In the coming weeks CONARE, the National Committee for Refugees, intends to extend such special conditions, which have been in place since 2013, for a further period.
One city that has taken in refugees is Belo Horizonte, Brazil's third biggest urban area behind Rio de Janeiro and São Paulo, where, according to local consulate figures, 78 Syrians have arrived this year.
"Today I'm working as a security guard…but I'm happy. The Brazilians have welcomed us with open arms," Alaa Kassab, a lawyer in his home city of Homs, told the Globo network. Belo Horizonte has been receiving Syrian refugees since 2012, mostly as a result of the work of Father George Rateb Massis of the Sagrado Coração de Jesus church, a Syrian himself, who has lived in Brazil for 15 years.
"They come from the airport with a Brazilian visa. Thank God the government isn't denying them that. The job market is very limited for them. Even though they are all university graduates, doctors and engineers, the opportunities are very basic," Massis told Globo.
This latest wave of arrivals is the most recent chapter in Brazil's long history of immigration, which began with colonisation by the Portuguese, and the forced transport of anestimated 4.9 million African slaves to the country between the 16th and 19th centuries.
Immigration in the modern sense of the word arrived in the 1820s in the form of large numbers of German migrants, unsettled by political and social upheaval at home and drawn by the lure of a new world in the south Atlantic, filled with vast, untapped areas of verdant farmland. The south of Brazil, where most of them settled, with its mountains and chilly temperatures, would not even have seemed all that far from home. The growth of the coffee industry subsequently created further demand for manpower, propelling more Europeans towards Brazil.
According to the Museu da Imigração in São Paulo, around 5.5 million immigrants arrived in Brazil between 1870 and 1953, from countries such as Italy, Portugal, Spain, Germany, Japan, and Poland. The influences of these arrivals can be felt today, from the stories of the Ukrainian born, naturalised Brazilian writer Clarice Lispector and the Germanic architecture found in parts of states such as Espirito Santo, Santa Catarina, Paraná and Rio Grande do Sul, to the Italian restaurants of the Bixiga neighbourhood in São Paulo and their Japanese counterparts in nearby Liberdade.
Arab immigration to Brazil, mostly from Lebanon and Syria, began in the late 19th century, with sources estimating that around 140,000 people moved from the Middle East to the country between 1880 and 1969. While there are conflicting opinions about the number of Brazilians of Arab descent today – a 1998 survey by the IBGE research unit found that Arab-Brazilians make up 0.48% of the population, or around one million people, while other sources put the number closer to ten million – there is no doubting the profound influence Arab immigration has had on Brazil.
Comida Arabe restaurants and snack bars selling kibbehs (quibes/kibes) and sfihas (esfihas) are a staple in every Brazilian town and city, with the vast Habib's chain one of the country's biggest fast food networks. And many high-profile Brazilians – such as vice-president Michel Temer, whose family originally came from northern Lebanon, renowned author Milton Hatoum, TV presenter Sabrina Sato and actress Juliana Paes – are of Arab descent.
The welcome extended by Brazil towards refugees has not been without its critics, however, with some less globally-minded locals keen to point out the difficulty the country often faces in providing jobs, education and social care for its own citizens, let alone foreigners. "Before opening its arms to refugees, we should look after our own "refugees", who have to live with violence and poverty," commented one reader of the Folha de São Paulo coverage of Rousseff's speech.
Tensions have risen too over the numbers of Haitian migrants in Brazil, with an argument breaking out between the governments of the entry point state of Acre in the north of the country, which lacks the infrastructure to deal with the volume of arrivals, and São Paulo, where the immigrants frequently end up.
And the kind of hostility and resentment that often surrounds the subject of migrants and refugees in the countries of the EU reared its ugly head a few weeks ago with the shooting of six Haitians by a man with a pellet gun in the centre of São Paulo, with the shooter reported to have shouted "you stole our jobs" after pulling the trigger.
"We Brazilians are a nation formed by people from a wide variety of origins, who today live in peace," said Rousseff, when describing the country's current stance on the refugee issue. With such tensions likely to grow as more and more immigrants arrive in the country, however, it is to be hoped that Brazil's arms will remain open to refugees for as long as possible.