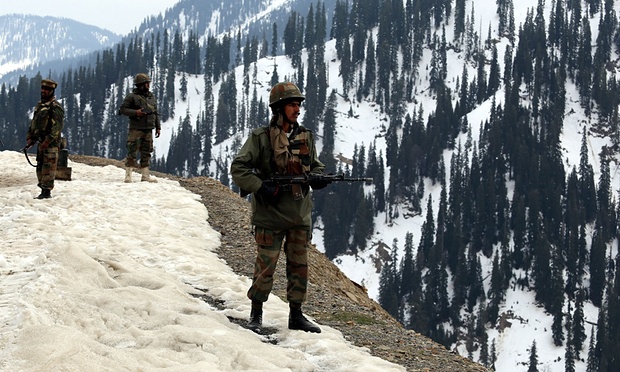 Relations between Pakistan and India improved dramatically on Wednesday when the two sparring nuclear-armed neighbours agreed to unrestricted talks after years of disagreeing terms of any discussions of their numerous disputes.
The diplomatic breakthrough by two countries that regularly exchange fire across their contested borders was announced at the end of a regional summit in Islamabad where officials also hinted at a possible revival of talks between the Afghan government and "Taliban groups".
The restarting of a "comprehensive bilateral dialogue" was announced by India's top diplomat Sushma Swaraj, the first Indian foreign minister to visit Pakistan since 2012.
High-ranking officials from the nuclear-armed neighbours have held precious few meetings since the election of Narendra Modi as prime minister of India in May 2014 given his government's insistence that talks focus on battling terrorism and not the contested region of Kashmir, a key Pakistan concern.
On Wednesday Swaraj not only met with Nawaz Sharif, the Pakistani prime minister, and his top foreign affairs adviser, but also agreed to start a dialogue process that would include Kashmir and other border disputes.
Pakistan said it was taking steps to bring about the "early conclusion" of the stalled trial of those involved in the 2008 terror attacks on Mumbai, India's financial capital, which was masterminded by Lashkar-e-Taiba, a Pakistani militant group.
Earlier in the day Swaraj told representatives of 31 countries gathered for the Heart of Asia conference on the future of Afghanistan that it was time for India and Pakistan to display "the maturity and self-confidence to do business with each other and strengthen regional trade and cooperation".
She added: "The entire world is waiting and rooting for a change. Let us not disappoint them."
The change in tack had been presaged by a closed-door meeting in Bangkok on Sunday between the two countries' national security advisers, which itself followed an informal conversation between Modi and Sharif on the sidelines of the Paris climate change conference the week before.
Analysts said India softened its position after a string of state elections when it was in the interest of Modi's Hindu nationalist Bharatiya Janata party to strike a hawkish, populist line against Pakistan.
In a busy day of diplomacy, the Heart of Asia summit also saw officials from leading countries hint at fresh talks between the Taliban and the Afghan government which were abandoned after just one round this summer.
Antony J Blinken, US deputy secretary of state, said the Afghan and Pakistani leaders renewed their commitment to an "Afghan owned and Afghan led" process during meetings with senior diplomats from the US and China, in a sign of the powerful international pressures for a peaceful end to the war.
Blinken said the first Pakistani-brokered meeting between Afghan officials and authorised Taliban representatives in a hill town near Islamabad on 8 July had been a "very significant development" and there was a "clear desire to return to that process".
Salahuddin Rabbani, the Afghan foreign minister, said he hoped to see positive moves in the coming weeks on peace talks.
There are doubts over how quickly the talks can begin given the violent splits that developed within the Taliban after it was revealed in late July that the insurgency's spiritual leader Mullah Omar had been dead for two years.
News of Omar's death triggered a sharp increase in attacks in Afghanistan as the Taliban's new leader Mullah Mansoor attempted to assert his authority over a movement divided over both his leadership and the wisdom of negotiating with the Kabul government.
In a statement Pakistan's foreign ministry appeared to recognise the divisions by explicitly referring to multiple Taliban groups.
Pakistan "will work to create conditions that encourage participation of Taliban groups in a peace process that demonstrates to them that they have a real option of political engagement", it said.
The surge in violence, which many in Afghanistan believe is caused by clandestine Pakistani support for the rebels, heaped pressure on Ashraf Ghani, the Afghan president, to abandon his policy of making concessions to Islamabad to gain Pakistan's backing for peace talks.
Afghanistan's enduring security crisis was highlighted on the eve of Ghani's arrival in Islamabad when 37 people were killed during a Taliban attack on Kandahar airport, a major civilian and military hub in the country's south.
Ghani told the conference that steps taken by Pakistan against terrorism had further undermined Afghan security by flushing ever more militants across the border.
He said Afghan special forces had been forced to launch more than 40 operations against the TTP and that the country was now a hotbed of international jihadi.
"Al-Qaida, [Isis] and terrorists from China, Russia, Uzbekistan, Tajikistan, the Middle East are all, unfortunately, present on our soil," he said.
Aziz Ahmed Khan, a former Pakistani ambassador to both Kabul and New Delhi, said there was now a "ray of hope" for improved relations with India.
However bitter experience meant "you should never be overly enthusiastic because you never know where the next stumbling block will come", he said.
Khan doubted there would be an immediate resumption of talks with the Taliban saying there now needed to be an "intra-Taliban reconciliation process".
"Ashraf Ghani probably did have reason to be upset with us so the fact that he has come here and everyone has talked at the highest level is something," he said.