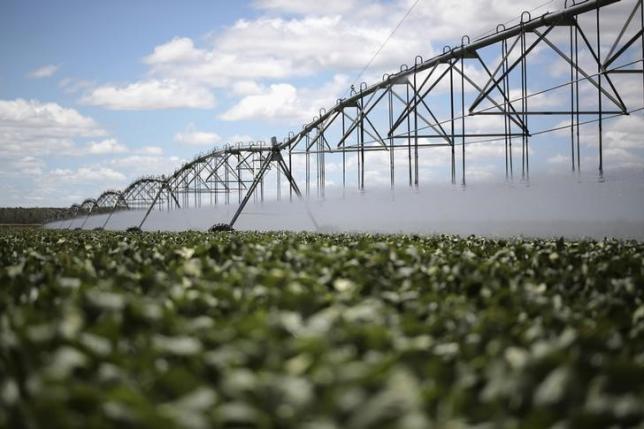 Hopes in Brazil's distressed poultry and pork industry that record-high corn prices will lure farmers to sow more of the feed grain may be squashed by soaring soybean prices, potentially prolonging the crisis and boosting prices for longer.
Farmers will increase acreage dedicated to corn in the September planting season for the first time in almost a decade, but soybeans will account for the bulk of Brazil's grain expansion, an informal poll of nine analysts, traders and agronomists by Reuters showed.
Summer corn acreage will rise only 3 percent next season to 5.6 million hectares when planting starts in September. On average, acreage has contracted by 6 percent over the past five years.
But experts estimated that Brazil's soybean area will grow by 3.5 percent to 34.3 million hectares, according to the results of the survey.
In the winter planting season in early 2017, acreage for corn will increase by 771,000 hectares, or 7.5 percent, to 11.05 million.
While it's still early before the summer planting season and farmers may tweak plans, the meager increase in corn acreage may not be enough to help replenish domestic supplies that have almost run out this year as exporters have shipped more abroad.
That will likely keep corn prices elevated at nearly record highs, even as global prices languish amid a growing glut, increasing stress on big meat companies like BRF SA, JBS SA and Marfrig SA. Many have curbed output or closed plants due to soaring feed prices.
For big rival exporters like Argentina and the United States though, it offers a much-needed chance to sell excess grain to Brazil's hungry livestock industry.
Even though corn prices remain near record highs at above 30 reais ($9) a bag, a nearly 3-percent increase in production costs due to higher seed prices in Brazil's top grain state of Mato Grosso will erode the crop's appeal, experts said.
Production costs for soybeans, however, have fallen nearly 5 percent, Aedson Pereira, grain analyst at Informa FNP, said.
Higher forward sales of the 2016/17 crop suggest farmers are preparing to sow a bigger soy harvest too.
By May, producers had sold an estimated 18 percent of the 2016/2017 soy crop, surpassing the previous 2012/13 record of 15 percent. On average, producers sell less than 7 percent of the coming soy crop by May.
Brazil was forecast earlier in 2016 to harvest a record 58 million tonnes of winter corn that's currently being harvested, but dry weather has reduced output to just under 50 million, down from 54 million last year. Some regions suffered crop losses of 60 to 70 percent.
The soy crop was also expected to approach a record 100 million tonnes, but came in lower than last year at 95.6 million, down nearly 1 percent.
Adding to the uncertainty for grain farmers will be a shift in global weather patterns to La Niña, which is associated with the cooling of Pacific surface temperatures and tends to mean drier weather on Brazil's grain belt, Phillipe Mello at the logistics, storage and trading firm NovaAgri said.
"In the face of greater unknowns, and especially the weather, farmers tend toward default decisions, which in our case is soybeans," Mello said.