China is requiring from July 10 that car companies owning intellectual property rights of electric vehicles further their research and development to speed up EV technologies.
The new regulation, an update to rules for the Made in China 2025 strategy and which was released by the Ministry of Industry and Information Technology last month, also rules that new manufacturers of pure electric and plug-in hybrid electric passenger cars must be registered in China.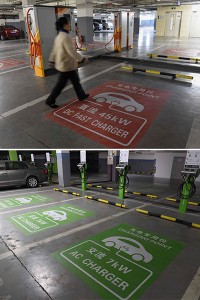 The National Development and Reform Commission and MIIT issued the Management Regulation of Newly Founded Pure Electric Passenger Car Makers on June 4, giving specific technology thresholds to the emerging sector.
The regulation said the companies should refine their technologies in electric vehicle control systems, battery power and lightweight vehicle construction.
They should also conduct more research and development in vehicle concept designs, systems and structure engineering, testing and finalizing of models.
Safety standards and reliability tests for new manufacturers of pure electric and plug-in hybrid electric passenger cars should be prioritized to demonstrate that cars are capable of protecting people from electric shock or collisions.
Cars should maintain their capabilities in power, safety and efficiency after having been driven 300,000 kilometers.
The cars must have a top speed faster than 100 km/h, with a full battery driving range further than 100 km.
Mini-sized, two-seat pure electric cars with low maximum speeds have become popular in many second-and third-tier cities in China. Some of the models' top speeds reach 80 km/h but some can drive no faster than 60 km/h. The mini electric cars are cheaper than 50,000 yuan ($8,100).
More than 300,000 mini electric cars were sold in China last year, more than quadruple the number of sales for bigger new-energy vehicles.