DUBAI — China's Belt and Road initiative will benefit regional countries as it unleashes the potential of trade and infrastructure investments from East Asia to Africa, an expert said on Sunday.
Dominique Turpin, the president of Swiss business school IMD (international institute for management development), made the remarks at the opening of the annual business forum of IMD in Dubai.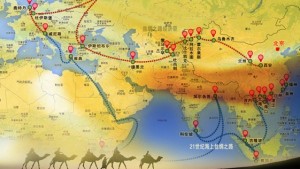 The initiative of the Silk Road Economic Belt and the 21st Century Maritime Silk Road, proposed by Chinese President Xi Jinping in 2013, is aimed at reviving the ancient trade routes that span Asia, Africa and Europe.
"China's successful policy model which improved the standard of living of Chinese people over the last decade shows that economic success in an international level can only be achieved by effective policy making, domestic stability and prosperity," he said.
Turpin said competition among the countries along the Silk Road Economic Belt will inspire innovation and bring industries in the eastern hemisphere to a higher level.
For investors, Turpin said the biggest chances lie in the pharmaceutical and nutrition sectors due to the fast growing population in the countries from East Asia to Africa.
He also welcomed China's initiative to set up the Asia Infrastructure Investment Bank (AIIB).
The AIIB is designed to finance infrastructure construction in the continent. It will have authorized capital of $100 billion.
dollars and the initial subscribed capital is expected to be around $50 billion.
The bank, which will be headquartered in Beijing, is expected to be officially established at the end of 2015.