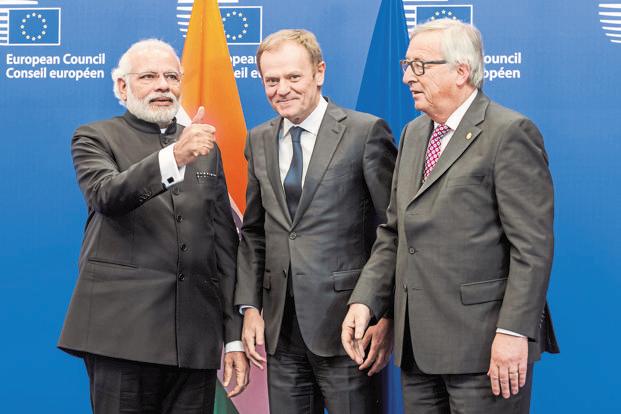 New Delhi: On 26 May 2016—when the National Democratic Alliance (NDA) government marks the completion of two years in office—Prime Minister Narendra Modi would have visited at least 40 countries, besides hosting the heads of governments of almost a similar number of nations in India.
Though he has encountered harsh criticism for his travels, analysts say foreign policy is an area where the NDA government seems to have scored better than others perhaps.
For someone who previously has had little to do with foreign policy (during the dozen years he was chief minister of Gujarat), Modi seems to have managed diplomatic initiatives with aplomb—inviting the leaders of neighbouring countries for his government's inauguration on 26 May 2014, getting US President Barack Obama to be the chief guest on the occasion of Republic Day in January 2015, and walking on the Sabarmati riverfront in Ahmedabad with Chinese President Xi Jinping in September 2014.
"Two years in, the headline for Modi's foreign policy has been a clear and unambiguous statement of India's ambitions for global power," said Alyssa Ayres, senior fellow for India, Pakistan, and South Asia at the Council on Foreign Relations, a Washington-based think tank.
"Previous governments spoke about India rising and seeking its rightful place in the world, so the ambition has been there, but with Modi, there are no caveats about India's transition to become a leading power," she said in emailed remarks.
Key strands in Modi's foreign policy in the past two years include embedding India's domestic economic and development agenda firmly in it, showing the world that India has the confidence to deal with a multiplicity of partners to achieve this goal and revitalizing old partnerships.
"The prime minister has clearly articulated that foreign policy has to subserve India's domestic goals, that is, speed up economic growth and help bring in capital and technology," said a person familiar with the developments who did not want to be identified.
He pointed to a conference last year of heads of Indian missions from across the world where Modi enunciated this clearly: use the current global environment to position India in a leading role and adapt to global changes.
Indeed, India's economic development has been a central theme of Modi's visits abroad in the last two years —be it the US, Japan, France, Germany, Canada or the United Arab Emirates (UAE).
With the International Monetary Fund (IMF) in April describing India as the continuing "bright spot" in an otherwise bleak global economic environment and forecasting that India will remain the fastest growing major economy in 2016-17, expanding at 7.5%, ahead of China, the attractiveness of India as an investment destination is obvious. And Modi has not missed any opportunity in the past two years to convey India's advantages as an investment destination.
Sample this: "India is one of the brightest economic opportunities in the world today. Our macroeconomic fundamentals are robust, and at 7% plus, we are one of the fastest growing economies of the world. I believe that a combination of Belgian capacities and India's economic growth can produce promising opportunities for businesses on both sides," Modi said while on a visit to Belgium in March.
"I invite the Belgian government and companies to proactively associate with India's ambitious development projects, including Digital India, Start-Up India and Skill India. Belgian businesses can make their global supply chains more cost-effective by manufacturing in India," Modi said.
In the UAE as in Saudi Arabia, Modi sent out a similar message.
"Infrastructure development and real estate offer tremendous opportunities for UAE businesses in India," Modi said in an address to UAE business representatives. "In agriculture, we need cold-storage network and warehousing network where UAE businesses have another advantage," he said. "UAE's power and India's potential can make the dream of an Asian Century a reality," Modi added.
The India-Saudi Arabia joint statement at the end of Modi's 2-4 April 2016 visit said: "The Saudi side expressed its interest in investing in infrastructure development in India, especially in priority areas such as railways, roads, ports, and shipping."
Some of the early signs that Modi's message seemed to be making an impact came in the form of concrete pledges of investments and pacts. For example, during his visit to Paris last year, France announced an investment of €2 billion in India and projects to develop three smart cities—a flagship programme of the NDA government aimed at meeting the demands of a rapidly urbanizing India.
During a visit to China last April, the two countries signed business deals worth $22 billion.
And during a visit to Japan in September 2014, Modi won a pledge from Japanese Prime Minister Shinzo Abe that the country will invest more than $30 billion in India over five years.
"Prime Minister Modi's foreign policy in his second year has been a consolidation of the work done in his first year in office," said former foreign secretary Kanwal Sibal.
"Ties with all major partners are on track—the US, to which he has made three visits in two years and will be making a fourth at the start of his third year in office," Sibal said, referring to Modi's 7-8 June visit to the US. "Other partners like Russia, there are no wrinkles in that relationship; with France, ties have been progressing steadily. India's immediate neighbourhood diplomacy, I would term broadly, a success though there are some difficulties," he said. "I would give Modi 6 out of 10 for foreign policy-handling so far," Sibal added.
One of Modi's successes has been the strong statements against terrorism during his visits to Saudi Arabia and the UAE, Sibal said.
But the most dramatic reset in ties with any country has been with the US, Sibal noted. From overlooking a nine-year ban on him travelling to the US for allegedly turning a blind eye to the 2002 Gujarat riots to the surprise invitation to Obama to be India's 2015 Republic Day chief guest—Modi transformed the tone and tenor of the India-US discourse that had been riddled by mutual acrimony and distrust, Sibal said.
It was Modi's visit to Washington in September 2014 that set the stage for reworking the ties between Asia's third largest economy and the world's pre-eminent power. Modi and Obama set out a blueprint to work around differences. A joint statement described the US as a principal partner "in the realization of India's rise as a responsible, influential world power".
And, during Obama's visit to New Delhi in January 2015, Modi continued with his theme of a "rewrite" of India-US ties. On the trade front, Obama during his visit, pledged $4 billion in investments and loans.
"What has emerged under Prime Minister Modi is that he has pronounced the US as India's principal strategic partner," said Sibal.
According to Ayres, "India-US ties continue their path towards closer partnership.
"You have seen that US speaker of the House Paul Ryan has invited PM Modi to address a joint meeting of the US Congress—this is a rare occasion and illustrates the widespread positive sentiment toward India in the US," she said, referring to Modi's upcoming visit to the US and the address to the US Congress scheduled for 8 June.
"Are there disagreements? Of course… In any bilateral relationship, there will be disagreements; the point is to work through them," she said.
One of the issues India and the US have differed sharply over has been the sale of F-16 fighter planes to Pakistan. This February, the Obama administration notified the US Congress of its decision to sell eight F-16 fighter jets to Pakistan worth nearly $700 million, aimed at bolstering Pakistan's counter-terrorism capabilities. India's reaction was predictably acerbic, questioning the need for and use of strategic weapons in counter-terrorist operations. That the US move came in the middle of India seeking to focus global attention on a terrorist strike on an Indian airbase by militants based in Pakistan did not help matters.
According to former foreign secretary Lalit Mansingh, Modi's handling of Pakistan and China has been less than successful. "We have not been able to find a consistent line of strategy to pursue with Pakistan and China," he said.
In the case of Pakistan, India has been unsuccessful in its attempts to resume peace talks. Modi, who met Pakistan's prime minister Nawaz Sharif for the first time when the latter attended his inauguration in New Delhi, shook hands with the Pakistani leader subsequently at a South Asian heads of government meet in Nepal in 2014, then again on the sidelines of another regional meet in Russia in July 2015 and then again on the margins of the UN Framework Convention on Climate Change in Paris in November.
The last resulted in a breakthrough of sorts, with the national security advisers of both countries meeting in Bangkok and setting the stage for a meeting between the foreign ministers in Islamabad in December. At the end of the foreign ministers' meeting, it was announced that both countries would begin a "comprehensive bilateral dialogue."
This was followed by a surprise visit to Pakistan by Modi—seen as a largely symbolic gesture but a sure sign that India was invested in the peace process. But the raid on the Pathankot airbase put paid to all the moves aimed at getting bilateral ties on track.
"One exception to Modi's generally successful foreign policy has been New Delhi's foundering relations with Islamabad," said Lisa Curtis, senior research fellow, at Heritage Foundation, a Washington-based think tank. "Indian leaders (however) controlled their rhetoric and averted a potential diplomatic crisis through patient, behind-the-scenes discussions with their Pakistani counterparts," she said in emailed remarks.
With China, too, Mansingh said, Modi had not been able to find a strategy that works.
He pointed to recent reports that China was building up the strength of its troops along the borders with India. That China blocked a move by India to ban Maulana Masood Azhar, head of the Jaish-e-Mohammed militant group that India blames for the attack on its Pathankot airbase in January, did not help matters. Added to this were reports of a Chinese naval build-up in the Indian Ocean which India considers its backyard.
"With all this and Chinese presence in Pakistan occupied Kashmir (PoK) and plans to invest in the China-Pakistan Economic Corridor passing through PoK, one gets the sense that China is trying to intimidate India, that they are putting us on notice," Mansingh said.
With Nepal and the Maldives, too, ties haven't been brought on an even keel, Mansingh said. "These are the issues Modi will have to focus on in the remaining time in office," he said.
According to Ayres, Modi is likely to focus on a consolidation of India's economic diplomacy.
"I would conjecture that the next three years will bring a further emphasis of Modi's international commercial diplomacy strategy, leveraging foreign policy to help deliver higher growth at home. With three years before the next Lok Sabha election, he will likely have his sights set on economic transformation to help deliver jobs," said Ayres.