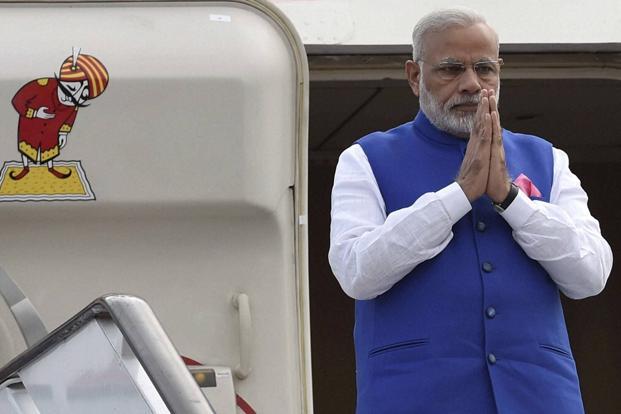 New Delhi: Prime Minister Narendra Modi is in Nairobi on Monday on the last leg of his five-day, four-nation tour of Africa. He visited Mozambique, South Africa and Tanzania, besides Kenya. This is Modi's first visit to the African mainland—he had visited Mauritius and Seychelles in March last year.
The visit comes within eight months of India hosting the heads of state and government of 41 African countries and representatives of all 54 African states in New Delhi at the third India-Africa summit in October.
The trip also comes after visits by President Pranab Mukherjee to Ghana, Ivory Coast and Namibia last month and by vice-president Hamid Ansari to Morocco and Tunisia in May-June. Together, the visits aim to bolster and sustain ties between India and energy- and resource-rich Africa, given that the next India-Africa summit will be held in 2020.
Here's a look at some of the key takeaways from Modi's Africa tour.
Food security: India signed a long-term agreement for the import of pulses from Mozambique during Modi's visit, the first by an Indian prime minister to the southeast African state in three decades. The pact will help India tide over shortage of pulses in the country that has led to a spurt in prices. Mozambique grows the commodity without much consumption. India's cabinet last month had cleared a proposal to enter into an agreement with Mozambique for importing 100,000 tonnes of pulses in 2016-17 with an option to scale it up to 200,000 tonnes by 2020-2021.
Terrorism: Forging a consensus on terrorism has been a key theme during Modi's visit to Africa which has seen its fair share of the problem with the threat from the Sunni Islamic State in the north in Libya and Tunisia to Boko Haram, which draws its ideology from the Al-Qaeda in West Africa.
Push for Make in India: During his visit to South Africa, Modi invited defence businesses to set up a manufacturing base in India, which could service the domestic requirements of India and South Africa as well as for export to third countries.
Strengthening the India-Africa connect: At every stop, Modi invoked India's past links with the continent—the shared experience of struggle against colonial powers. Modi also laid out blueprints for future cooperation, in the face of competition from China. In Mozambique, Modi offered to share India's expertise in agriculture infrastructure. He also noted that healthcare was a sector where India's capabilities would match the needs of Mozambique. In Tanzania, Modi offered $500 million of concessional credit for water supply connections to 17 cities in addition to an existing $100 million.
The prime minister also offered assistance in public health with the supply of medicines and equipment. In South Africa, Modi sought a partnership between the businesses of the two countries which, he said, can give a new shape to the India-Africa partnership and drive it to new levels. Another important aspect of the India-Africa connect was the Indian diaspora. Modi addressed meetings of the Indian community in all four countries, underlining the links between Africa's east coast and India's west coast and their common connect across the Indian Ocean.
Building a personal rapport with African leaders: Personal connect with leaders has been an important element of Modi's diplomacy since coming to office in 2014. Of the four countries visited, three have held elections in recent years—Kenya in 2013 bringing president Uhuru Kenyatta to power, Mozambique in 2014 that elected president Filipe Nyusi and Tanzania in 2015 that saw president John Magufuli assume office. Modi met Kenyatta and Nyusi last year, while this was his first meeting with Magufuli. Modi invited the Tanzanian president to visit India which was accepted. South Africa's Jacob Zuma is a better-known figure to the prime minister, given that Modi has met him on a number of occasions like the annual Brazil-India-Russia-China-South Africa (Brics) meetings and the India-Africa summit last year.