Modi raised the question of some USD 46 billion investment by China in an economic corridor passing through Pakistan-occupied Kashmir (PoK), about which India had protested.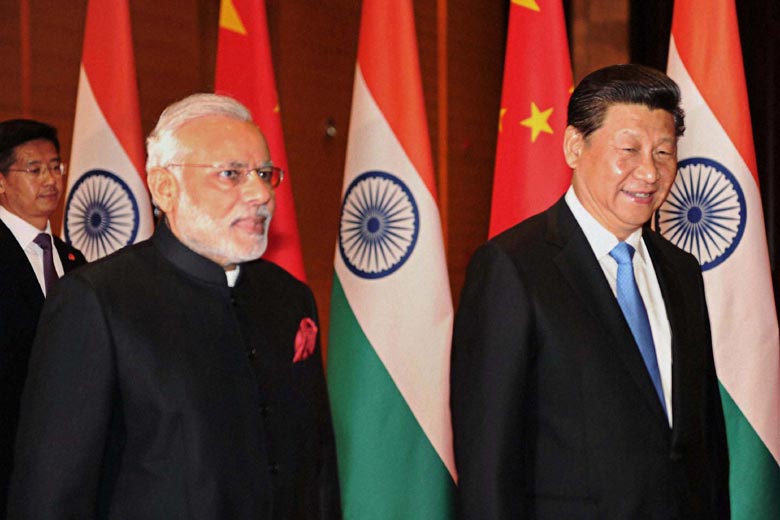 Prime Minister Narendra Modi today began a three-day visit to China from this north west city, the hometown of Chinese President Xi Jinping with whom he held "very substantive" discussions focussing on strengthening of mutual trust and the boundary issue.
On his first visit to China since assuming office last year, Modi was warmly greeted by Xi, who set aside protocol to receive a foreign dignitary outside Beijing in replay of the Indian leader's gesture in September last when he welcomed the Chinese President in his hometown Ahmedabad.
Even as mutual warmth was apparent, Modi raised the question of some USD 46 billion investment by China in an economic corridor passing through Pakistan-occupied Kashmir (PoK), about which India had protested. The investments were announced during Xi's visit to Pakistan last month.
Another ticklish issue reportedly raised by Modi concerns the issuance of stapled visas by China to residents of Arunachal Pradesh, which the Chinese claim to be a part of southern Tibet, a claim totally rejected by India.
For the record, Foreign Secretary S Jaishankar said the "very substantive talks" between the two leaders covered subjects ranging from political, economic and global issues like terrorism, UNSC reforms and India's membership of Nuclear Suppliers Group (NSG).
"On the political side, there was a lot of discussion on strengthening trust and increasing convergence," he said while briefing media on the 90-minute delegation-level talks without taking any questions.
He said the two leaders discussed the boundary issue, including peace and tranquility, besides trans-border rivers.
The boundary issue has been a sticking point in the relations between the two major Asian countries and both are making efforts to settle it through Special Representatives' talks. The Special Representatives have held 18 rounds of discussions so far.
Talking about the atmospherics at the meeting, the third in a year between Modi and the all-powerful Xi, who is also the General Secretary of the Communist Party, Jaishankar said, "the atmosphere was very comfortable.
"So, in the sense it was building on the chemistry between the two of them which started last September."
On the economic front, Modi and Xi discussed the issue of trade deficit, which is in favour of China to the tune of USD 38 billion, and ways to address it.
They also talked about the investment climate and challenges of reforms, Jaishankar said.
"This is the first time I have treated a foreign leader in my hometown," Xi told Modi in his opening remarks at the meeting, and hoped that the Indian leader's visit will push the bilateral strategic partnership to achieve new progress, which has potential for greater development.
"China-India relations are experiencing stable development and facing broad prospects," the President added.
Xi thanked Modi for the warm reception he received during his India visit in last September. "That left me with deep and good impression," the Chinese President said.
During that visit, they reached an "important consensus" on promoting the bilateral strategic partnership of cooperation and forging a closer partnership of development, the Chinese leader noted.
Both sides maintained frequent high-level contact and engagement, promoted cooperation in priority areas including construction of railway and industrial park, strengthened exchanges, controlled the bordering areas and kept good communication on international and regional affairs, Xi said.
Modi said he was glad to visit China. He cited his trip in some historical places of interest in Xi'an and spoke highly of the cultural exchanges between the two ancient civilizations.
Xi took Modi on a tour of iconic Giant Wild Goose Pagoda built in 652 AD in recognition of monk Hiuen Tsang's 17-year-long journey to India and his efforts to popularise Buddhism in China.
The Prime Minister gifted a Bodhi sapling to the temple. In turn, the Abbot of the monastery gifted to Modi a figurine of Hiuen Tsang, also known as Xuan Zang.
Hiuen Tsang undertook the journey to India through the ancient Silk Road and returned home after the 17-year sojourn with precious Buddhist scriptures.
Modi began his day here with a visit to the famous Terracotta Warriors Museum which has a large collection of sculptures depicting the armies of Qin Shi Huang, the first Emperor of China.
"The Terracotta army is a heritage of the world… It is a testimony to China's civilizational achievements," he wrote in the visitor's book.
The Prime Minister spent about an hour going around the museum, a UN world heritage site, which also houses Qin's mausoleum. He enquired about the excavation work being undertaken there.
Modi also wrote that he was "deeply impressed" by the extraordinary care with which the museum has been preserved.
During his talks with Modi, the Chinese President expressed hope that the two countries can trust each other more and control their disputes to avoid weakening bilateral ties.
He said the two countries should seek common ground in their respective development strategies to jointly promote the region's economic integration and contribute to global economic growth.
The Chinese President called on the two countries to look at their ties from a long-term perspective, strengthen coordination on global and regional affairs, and "steer the international order to develop in a fairer direction", state-run Xinhua news agency reported.
The two countries could strengthen communication on the Belt and Road Initiative, the Asian Infrastructure Investment Bank (AIIB), and Modi's "Act East" policy, find areas of common interest, and hone a mode of cooperation with reciprocal benefit, Xi said.
He called for more bilateral cooperation in areas including railways, industrial parks, urbanisation and training, pledging to encourage Chinese companies to invest in India.
Xi also called on the two countries to strengthen exchanges between media, think tanks and young people to promote mutual understanding.
Calling China a great neighbour, Prime Minister Modi said India was ready to communicate and cooperate more closely with China, increase cultural exchanges and properly handle disputes.
He also voiced hope for more bilateral trade and closer cooperation with China within the AIIB.
He said he believed the AIIB will play an important role in regional economic and social development, and that India welcomes China to increase investment.
With regard to South Asia, Xi stressed that China has close relationships in the area and supports the region to maintain friendly ties. China is ready to strengthen reciprocal cooperation with all South Asian nations and promote the region's peace, stability and prosperity, he said.
Modi echoed Xi, saying India attaches high importance to communication in South Asia.
India is ready to cooperate with China concerning the Belt and Road Initiative to promote the region's development and prosperity, he said.
First Published on May 14, 2015 10:34 pm