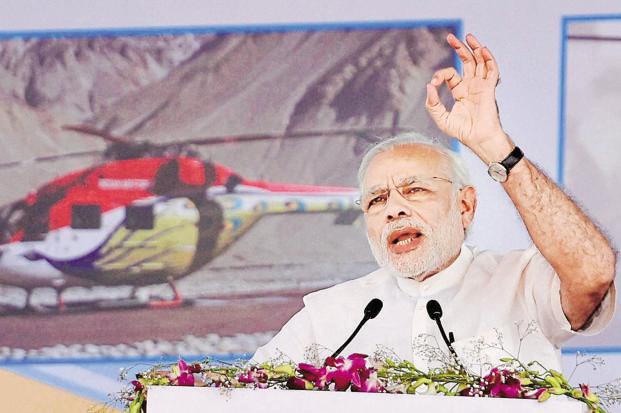 New Delhi: As energy companies cut capital expenditure on account of the fall in crude oil prices, Prime Minister Narendra Modi brainstormed with global oil and gas industry representatives on Tuesday about ways to attract investments into India's hydrocarbon assets.
BP Plc.'s chief executive officer Bob Dudley, Royal Dutch Shell Plc.'s director (projects & technology) Harry Brekelmans, the International Energy Agency's executive director Fatih Birol and Pulitzer prize-winning American author Daniel Yergin were among those present at the meeting, PTI reported.
"The discussions focused on subjects such as increasing the share of gas in India's energy mix, fresh investment in oil and gas exploration in India, regulatory frameworks, international acquisition of oil and gas assets, emerging areas of shale gas and coal-bed methane and oil and gas sector related possibilities of 'Make in India'", said a statement from the Prime Minister's office.
Make in India is a government initiative to promote domestic manufacturing.
Affordable, long-term supply of energy is key to India achieving its target of boosting the share of manufacturing in the country's economic output to 25% by 2025 from 17% now.
Tuesday's meeting was attended by finance minister Arun Jaitley; power, coal, new and renewable energy minister Piyush Goyal; oil minister Dharmendra Pradhan and vice-chairman of NITI Aayog Arvind Panagariya.
The meeting assumes significance as no major oil and gas discovery has been brought to production in recent past.
Pradhan tweeted that the interaction was "constructive."
People familiar with the discussions said ways of doubling the share of natural gas, considered a cleaner form of energy, in the country's energy-use mix to about 20% by the end of the decade were also discussed.
India is also keen on producing natural gas from its coal seams (coal bed methane) and shale resources.
Shale is a rock formation containing extractable gas and is found in abundance across the country, especially in the Gangetic plains, Gujarat and Assam. It is already used extensively in countries such as the US and Canada.
Experts said India needs to increase the use of cleaner forms of energy given the nation's pledge on carbon emissions at last month's global summit on climate change.
"Power and transport sectors hold key to have increased demand for natural gas in India. Considering India's CoP21 commitment at Paris, we must increase use of gas in place of more polluting fuels such as coal," said Debasish Mishra, a partner at Deloitte Touche Tohmatsu India.