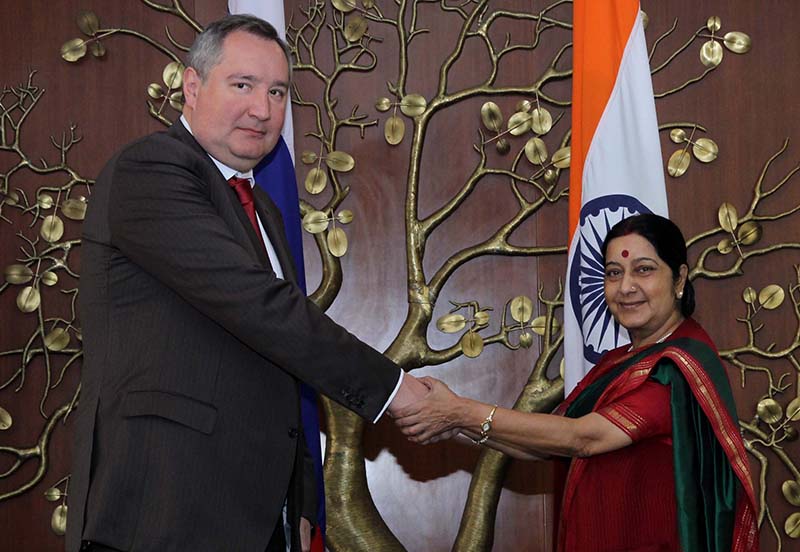 India's External Affairs Minister (EAM) Sushma Swaraj will co-chair, with Russian Deputy Prime Minister Dmitry Rogozin, the 21st meeting of the India-Russia Inter-Governmental Commission on Trade, Economic, Scientific, Technological and Cultural Cooperation (IRIGC-TEC). Ahead of Prime Minister Narendra Modi's visit for the annual bilateral summit with President Vladimir Putin, the Swaraj-Rogozin meeting, in Moscow on October 19-21, will set the leader's summit agenda. They will also review progress in trade and economic cooperation since the last IRIGC-TEC meeting a year ago in New Delhi.
At the end of the IRIGC session, Swaraj and Rogozin will sign a Protocol on results of the meeting.
Prior to the IRIGC meeting, several official delegations from both countries have exchanged visits aimed at significantly boosting bilateral trade and economic ties, and increasing the level mutual investments, including joint ventures.
"Currently, a number of activities are taking place in different fields of bilateral trade, economic, scientific, technological and cultural cooperation, with a high expectation of their positive conclusions at the coming Moscow summit," a source told RIR. "As a result, several agreements in these fields are expected to be signed at the summit," he said.
The IRIGC meet will note all important outstanding issues and recommend measures for their early solution, to achieve an annual trade target of $30 billion by 2025, against $10 billion in 2014. That trade and investment is not up to full potential of the two economies was discussed by the Russian President and the Indian PM at their bilateral meeting on the margins of the BRICS and SCO summits, in Ufa, in July.
The possibility of transition to rupee-ruble trade and barter trade in commodities with Russia in the immediate future, the widening of trade, economic and investment cooperation through the earliest completion of feasibility report of joint working group (JWG) and signing of Free Trade Agreement (FTA) between India and the Customs Union of Russia, Belarus and Kazakhstan, enhancing the bilateral trade turnover by speeding up the International North-South Transport Corridor (INSTC) project, and maintaining the momentum of cooperation in the priority sectors of civil nuclear energy, hydrocarbons, fertilizers, civil aviation, and rough diamonds are among the topics high on the agenda of the IRIGC.
Ways to encourage Russian companies to engage with India and Indian businesses under the "Make In India" programme more aggressively will be considered.
India's Ambassador to Moscow, P. S. Raghavan said India was working on a number of joint projects with Russia. "There are several projects under consideration under the 'Make In India' programme, especially in sectors such as engineering, aviation, infrastructure, research and development," Raghavan said.
A delegation of the Confederation of Indian Industry (CII) visited Russia in June and signed a MoU with the Russian Chamber of Commerce and Industry to explore aspects of 'Make in India'. The MoU signaled a new partnership between the two chambers to strengthen bilateral economic cooperation, including in the fields of infrastructure, civil nuclear energy, renewable energy and oil and gas and defence manufacturing in India.
The JWG on Priority Investment Projects has approved a list of 21 joint ventures. India has, so far, invested a total of $8 billion in Russia, mainly in energy, while Russia has brought $4 billion into India.
Russia plans to invite Indian companies to jointly extract oil and gas from Arctic Shelf deposits. Sanctions imposed against Russia by the West have opened new doors for expanding and deepening of the Indo-Russian trade and economic cooperation in food processing, dairy products, and agri-products.
India will start exporting dairy products to Russia from December, after a recent inspection of dairy manufacturing facilities by a team of Russian experts and relaxation of norms by its phytosanitary authority Rosselkhoznadzor. A delayed agreement on the India's supply of dairy products is set to be finalized during the IRIGC meeting. Amul, Parag and Dynamix could be the first Indian milk companies to export to Russia.
The Indian side will push for greater market access for Indian goods and services to the Customs Union member-countries.
India and Russia are actively engaged in developing an "appropriate mechanism" for rupee-ruble trade settlements to help significantly increase the current trade turnover. The issue needs an urgent solution since Putin said in Ufa that Russia was keen to use national currencies with other BRICS countries after agreeing to such an arrangement with China. The Central Banks of Russia and India have set up a joint working group to work out modalities for settlements in the national currencies.
The IRIGC meeting will nudge the JWG to find pragmatic solutions to problems in the way of transition to national currencies in bilateral trade agreements. Among the key issues to be discussed is to enable a currency-swap agreement as a precursor to settlement in two currencies.