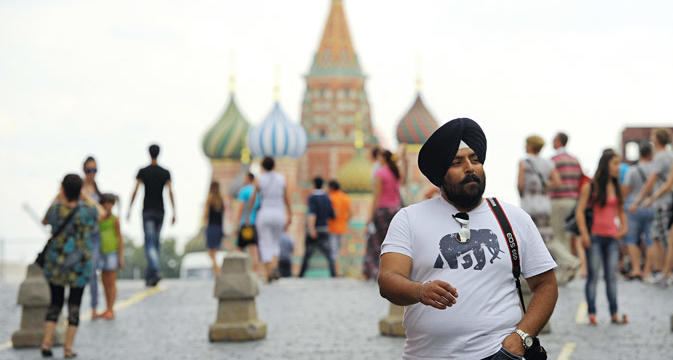 Travel is getting cheaper
Russia, Canada and New Zealand have emerged as the major new choices for Indian holiday-makers, choosing to travel abroad, according to a survey published in the Economic Times newspaper. These three countries are seeing an increased tourist inflow of 25 to 30% from India. Among the reasons cited are the weakening of national currencies in these three countries.
"A weak international economic climate has a lot of opportunities to offer to budget travellers. Indians who plan to visit countries whose currencies have devalued can enjoy more value for their money and spend more," said Neelu Singh, CEO of Ezeego1.com, a travel portal.
Charu Makin, director of Delmos Aviation, which operates a tourism business under the 'Visit Russia' brand, said his company had designed a three-night package for Moscow starting from Rs 40,999/-, including return airfare, visa fee, 4-star accommodation, and sightseeing.
"Earlier only luxury clients and niche travellers were travelling to Russia because it was unaffordable. Now the idea is to increase the numbers by bringing the destination within reach of the mass traveler, and the ruble is helping us do this," he added.
Significant growth
Mikhail Vorobyov, head of consular services at the Russian Embassy in India, also confirmed to RIR that there has been an increase in the number of Indian tourists traveling to Moscow and other Russian cities.
"In 2015, we issued twice as many visas as in 2014," he said. "This growth remains unchanged in 2016 (January-February 2016)."
Prashant Choudhary, director of Salvia Travel Company, said in 2015, growth in the number of tourists travelling from India to Russia was about 40%.
"These are the data as recorded in our company, which is one of the leaders in the Russian travel sphere. The aggregate data is not available yet," he said.
For the year 2016, he believes that "the growth of tourist traffic can reach from 50 to 70%," citing "the cheaper ruble" as among the reasons for this trend.
"Against the backdrop of a weakening national Russian currency, a round trip now costs an average of 20% less," he explained. Also, tourists who have visited Russia in the last 10 years serve as the best advertising. Overall, the feedback we get from people holidaying in Russia is positive."
Optimistic forecast
A source for RIR, close to the Indian Ministry of Tourism, is convinced that "the growth in mutual tourist flow will take place in the future." "Last year, Russia was included in the list of countries whose residents can receive e-visas to India. In December 2015, Russia was placed third among the total number of tourists who visited India."
An interlocutor with a press agency also said that Russia and India are currently "discussing further steps in this direction, including the abolition of visas for tour groups."
Maria Zakharova, official representative of the Russian Foreign Ministry, had previously said that a Russian-Indian agreement on issuance, on the basis of reciprocity, of six-month multiple-entry tourist visas for citizens of both countries will come into force on March 5.
"This category of visas will be issued with documents confirming the purpose of the trip and executed in accordance with the legislation of the receiving State, and provided that the duration of each stay in the receiving State does not exceed 30 days, and that the total length of stays will not exceed 90 days during each 180-day period," said the diplomat.
Supporting the trend
Tourist authorities and operators, and Russian organizations in India said they intend "to support this emerging trend" and have planned events designed to increase mutual tourist traffic before the end of this year.
"Before the end of February and in March, there will be two presentations on tourism in Russia held in New Delhi and Mumbai, which about 100 Indian companies will attend," said Ksenia Goryaeva, head of the Russian House in Delhi. "We have joined forces with the Russian Information Centre in India, and are also planning, this year, to hold five conferences in New Delhi, Mumbai, Chennai, Kolkata and Bangalore, during which we expect to develop recommendations on how to increase mutual tourist flow, and raise awareness in India on tourism opportunities in Russia."
Another important part of this program will be the "Indian tour operators and journalists coming to Russia in April on a familiarization tour." "The program of this visit will include Moscow, St. Petersburg and cities in the Golden Ring," she said. "In parallel, tourist authorities of Russian regions and India are discussing the exchange of advertising spaces. Among the participants of this project is the Ministry of Tourism of Kerala in southern India, which is supporting us."
Russian TASS News Agency, quoting the Ministry of Tourism of Kerala, said that also in April "Russian tour operators and journalists are expecting to travel to India on a familiarization tour."