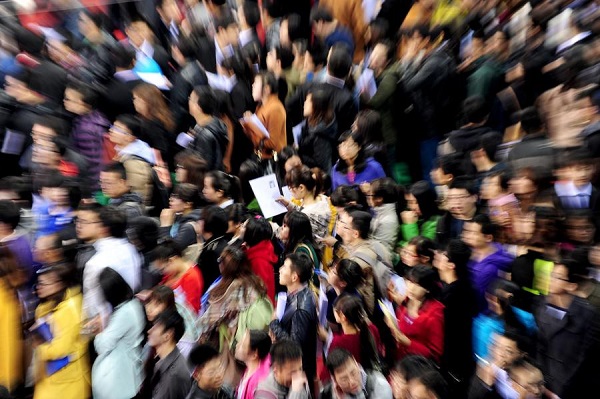 China said on Monday that urban employment held up in 2015 even as economic growth slowed, but the Human Resources ministry warned that the pace of job creation is slowing.
More than 13.12 million new jobs were generated for urban residents in the world's second largest economy in 2015, a senior government official said on Monday.
Yin Weimin, Minister of Human Resources and Social Security, told a press conference that China had created more than 13 million new jobs for urban residents annually since 2013, though the reading for 2015 was down 0.8 per cent from the year before.
At the end of 2015, China's total employed population stood at 774.51 million, the National Bureau of Statistics (NBS) said on Monday.
China's labor productivity, measured by output per worker, rose 6.6 percent year on year in 2015, NBS said.
China's economy grew 6.9 per cent year on year in 2015, the slowest annual expansion in 25 years, with GDP reaching 67.67 trillion yuan.
Earlier last week, the Ministry of Industry and Information Technology said China will allocate 100 billion yuan (£13.5 billion) over two years to relocate workers laid off as a result of China's efforts to curb overcapacity in sectors like steel.
The urban unemployment rate hovered between 4 per cent and 4.5 per cent in the last decade, even during the global financial crisis, partly because it does not account for China's 298 million migrant labourers.