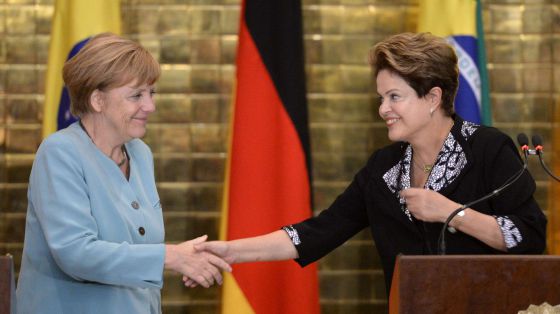 Chancellor Merkel has praised Brazilian efforts to combat deforestation on her trip to Brasilia, but warned that what happens in the Amazon has global consequences. She also sought to improve conditions for German firms.
Germany's Chancellor Angela Merkel was on a whirlwind trip to Brazil on Thursday to cement trade ties with South America's biggest economy. She also used the occasion to urge Brazil to take the necessary steps to protect the Amazon rainforest, calling the country "key" to controlling global climate change.
"Brazil is the key to all goals related to the climate," said Merkel in the capital Brasilia, before heading into talks with Brazil's president, Dilma Rousseff.
The chancellor's visit, which was set to be less than 24 hours, was heavily focused on environmental issues. While Brazil has made a point to stop the runaway clearing of trees for new farmland, NGOs that monitor the Amazon claimed that destruction has picked up again in 2015 after slowing down in previous years.
"We are very satisfied that there have been very ambitious developments concerning the stopping of deforestation," Chancellor Merkel said, adding that Brazil's policies towards the environment affect the entire world: "It's also the key to maintaining biodiversity in the world, because Brazil is the richest country in the world concerning biodiversity. What gets destroyed here cannot be replaced."
According to German government sources, a fund of 550 million euros ($615 million) would be offered to Brazil to help its anti-deforestation and sustainability campaigns over the next two yers. The two nations also agreed to set up a Berlin-funded program to protect certain parts of the rainforest.
"We agreed on common actions to deal with one of the most important challenges of the 21st Century," President Rousseff said. She added that Brazil is committed to reducing deforestation in the Amazon in the next 15 years.
More German investment in Brazil
In return, Merkel sought more room for trade with German industry from Brazil, which represents a huge emerging market. German firms like Volkswagen and Bayer employ around 250,000 Brazilians, and the chancellor hoped her visit would encourage investors to participate in Rousseff's plan for infrastructure projects amounting to around $64 billion.
"We can expand our trade," she said. "The German companies want, and are ready, to invest more in Brazil."
The visit was seen as a public relations boon for Rousseff, who is facing massive street protests as the corruption scandal surrounding state-owned oil giant Petrobras, of which she was once chairwoman, grows to engulf ever-more-powerful figures.