BRUSSELS, Dec. 8 (Xinhua) — China is playing a key role of a responsible partner during the ongoing climate conference negotiations in Paris, member of European Parliament (MEP) Giovanni La Via, said in an exclusive interview with Xinhua.
"We all hope to come out with a legally binding agreement which will have a positive impact for the entire world," said La Via, who also serves as chair of the Parliament's Committee on the Environment.
Commending China's efforts in proposing the ambitious Intended Nationally Determined Contributions (INDCs), he said China would pave the path for others in reducing greenhouse gas (GHG) over the next 10 years, "thanks to its economic model and investment in green technologies."
La Via underlined Europe is one of the biggest contributors to the Green Fund — accounting for a third of all donations — which will assist developing countries to mitigate and adapt to climate change.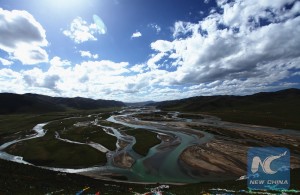 Photo taken on Aug. 30, 2013 shows the headwaters area of the Yellow River in Qinghai Province. (Xinhua/Yang Shoude)
"I hope other rich countries contribute substantially to the Green Fund. Now, because of the economic crisis it is difficult for many countries to pledge additional resources," he said.
La Via said the use of bio-fuels, electric and hydrogen cars, and liquefied petroleum gas would also contribute to curbing global warming.
Although in Paris, disagreements remain on periodic revision of the INDCs and the amount of financial support committed by richer nations to developing countries, he pointed out.
A key point will also be how countries are going to respect the targets, La Via added.