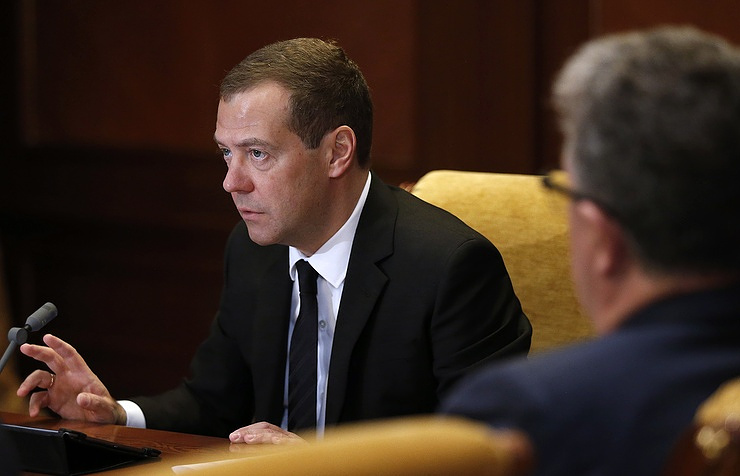 Russian Prime Minister Dmitry Medvedev will take part in a two-day summit of the heads of government of the Shanghai Cooperation Organization (SCO) in Bishkek, the capital of Kyrgyzstan, on Wednesday.
"The meeting will focus on prospects of developing economic interaction among the SCO member states," the Russian government's official website reported. "The heads of government will discuss how a multilateral program of trade and economic cooperation of the SCO states is being carried out," the Russian government said. A list of events aimed at promoting the organization's project activities in 2012-2016 will also be part of agenda.
"The organization's 2017 budget and a list of events for 2017-2021 is to be approved. An agreement for the establishment and functioning of an SCO University is being prepared for signing," the Russian government went on to say.
Medvedev highly appreciates the SCO role and has repeated many times that Russia wants to build advanced economic relations with the organization's members. "Last year saw a steady increase of non-resource exports both in physical and value exports. In a bid to support this trend, we should in full measure disclose the integration potential of the Eurasian Economic Union (Russia, Belarus, Kazakhstan, Armenia and Kyrgyzstan); agree on the creation of free trade zones with leading foreign economic counter agents and form advanced economic partnerships within the SCO framework as well as with the ASEAN states," Medvedev told the Gaidar Forum in January 2016. He said that work in that direction would be built on universal WTO rules. "Of course, we are not going to create closed clubs with their own rules of the game which ignore the interests of other participants in the world economy and trade," Medvedev emphasized.