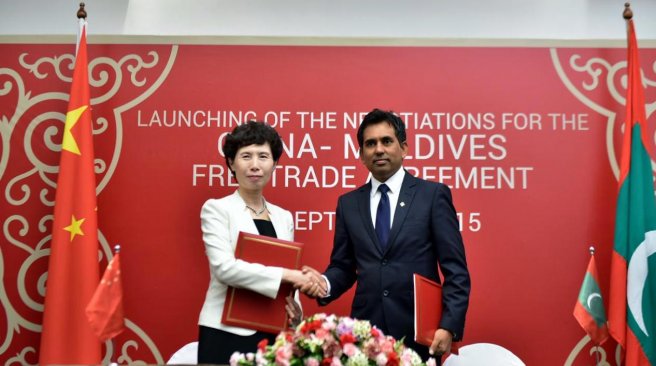 Discussions to establish the Maldives-China free trade pact is scheduled to begin Monday in Bandos Island Resort.
The discussion is being held under the MOU regarding free trade signed between the two countries last September.
Economic minister Mohamed Saeed told Haveeru on Sunday that the first discussions on compiling the free trade pact will ensue for two days. The concurred results will be announced after the second discussion held in China's Beijing in two months.
"We shall draw up the free trade agreement based on the resulting contents of the two discussions," said Saeed.
According to the minister, the first discussion round will focus on the major advantages to the economic and business sectors of the two countries.
Minister Saeed elaborated that one of the demands of the Maldives government will be exemption of duty fees from fish products exported to China, which is the bulk of the Maldives' export goods.
Saeed asserted that exportation of fish and its products to the market is a priority of President Abdulla Yameen Abdul Gayoom. Accordingly, the discussion with China will include strategies for further advancement of that industry.
He added that the enhancement of the finance sector for the benefit of civilians will also be addressed.
"We have to note that some of the projects currently underway in the Maldives are in association with the banks of Singapore and China. Hence, we'll consider such factors when entering a free trade pact with a consumer market such as China."
The Maldives-China free trade pact marks the first such agreement between the Maldives with another country. The Maldives had previously signed a free trade agreement with the South Asian Association for Regional Cooperation (SAARC) — the South Asian Free Trade Area (SAFTA) — but it is a regional agreement.