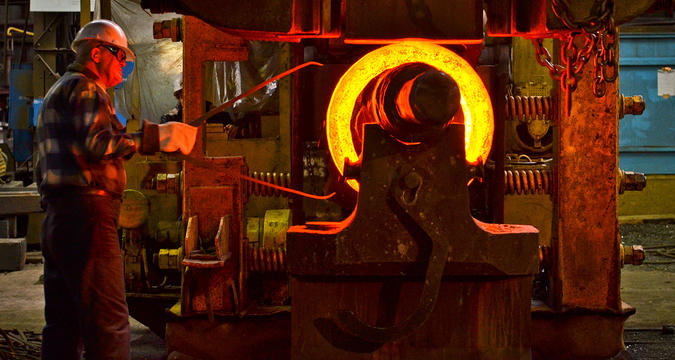 In a major boost to Indian Prime Minister Narendra Modi's "Make in India" programme, Russia's heavy equipment building company Uralmash and India's Noida-based SRB International have agreed to form a joint venture (JV) to manufacture heavy equipment for the steel and mining sectors. The joint venture "Uralmash SRB India," to be officially set up in the next few months, will be the maiden JV between Russia and India to produce heavy equipment for steel and mining projects in India. Eyeing growth of the steel and mining sectors in India, Uralmash plans to invest up to $6 million annually in the new JV.
The decision to form the new JV with SRB International was taken during talks with the Russian delegation led by Vladimir Pugach, head of the exports division of the Uralmash Machine-building Corporation of Yekaterinburg. The Russian delegation participated in the 6th International Mining, Exploration Exhibition from February 24 to 27 in Kolkata, and opted to enter India's steel and mining sector.
The biennial exhibition was organized by TAFCON, a professionally managed company along with Mining, Geological and Metallurgical Institute of India (MGMI). High-level trade delegations from over 25 countries, including Russia, China, USA, Germany and Australia, took part. Such exhibitions have become an ideal platform for the display and launches of new initiatives, products and technologies and establishing joint ventures between Indian and foreign partners.
"We are looking at a joint venture company with India's SRB which will be formalized in next three months," Pugach told reporters in Kolkata, referring to the equity shareholding between the two companies. He said they have not arrived at a decision on the equity shareholding yet, but hinted that the new company could be finalized at a 50:50 shareholding.
The decision by Uralmash and SRB International to form the JV is likely to boost the "Make in India" programme, and help achieve the bilateral trade target of $30 billion by 2025, set recently by the leadership of both countries. From India's point of view, projects like "Make in India" and "Skill India" can benefit from Russian investments. Besides Uralmash, many Russian companies have already shown interest to invest in the manufacturing and mining sectors in India.
The new joint venture "Uralmash SRB India" has still not strategized its production and servicing policy. However, according to media reports, it is expected to mainly concentrate on servicing the present partners and gradually move to manufacturing and assembly of spare parts of equipment for the complex heavy machines used in mines.
During his first interaction with the Indian business community last month, Pankaj Saran, India's Ambassador to Russia said that Indo-Russian joint ventures under the "Make in India" programme would significantly increase the volume of bilateral trade and investments between the two countries. He also stressed that Indian businessmen should project the "new image" of the country to the Russian business community in the light of the major opportunities opening up for Russian companies in India to invest in "Make in India" progamme.
Uralmash and SRB International have cooperated in supplying and servicing heavy equipment to several Indian companies, for many years; among them, Steel Authority of India (SAIL), National Minerals Development Corporation (NMDC), Coal India and Jindal Steel & Power Ltd (JSPL).
The mining, metallurgy, oil and gas, and power companies from Russia and CIS countries in India and Indian companies abroad are represented by SRB Group's Representation Division through SRB International. The company's operations are based on expertise in material and product technology and extensive know-how about industrial processes.
Founded in 1933, Uralmash is Russia's leading supplier of plants and machinery for steel, mining, oil and gas sectors, the cement industry and the nuclear power industry. It has a long history of bilateral cooperation in these fields with India. Since the 1950s, Uralmash has supplied heavy equipment to almost all the large-scale metallurgical plants in India, including steel plants in Bhilai, Bokaro, Vishakhapatnam and Rourkela.
The first Prime Minister of independent India, Jawaharlal Nehru described these plants, built with the assistance of the Soviet Union, as the "temples of modern India." It may be appropriately recalled that during his visit to the Soviet Union in 1955, Nehru also travelled to the industrial city of Yekaterinburg (former Sverdlovsk) in the Ural Mountains to see the Uralmash plant, which led to the construction of India's first modern steel plant in Bhilai.
Since the construction of the Kudankulam nuclear power plant (KNPP) in Tamil Nadu with Russian assistance, Uralmash has supplied some heavy equipment including trestle crane, polar cranes and fresh fuel storage crane for the nuclear power plant. In December 2015, Uralmash signed an agreement to manufacture and supply about 85 tons of equipment for the third and fourth units of the KNPP.