Opinions on key areas remain divided as negotiations in Paris enter final stage
The marathon United Nations climate change talks in Paris entered a crunch time as the clock ticked, and ministers in attendance were urged to make the most of the remaining time to achieve a fair and ambitious deal.
France presented a new draft text on Dec 9, yet significant differences in opinion remained as the conference, scheduled to end on Dec 11, entered its final stage.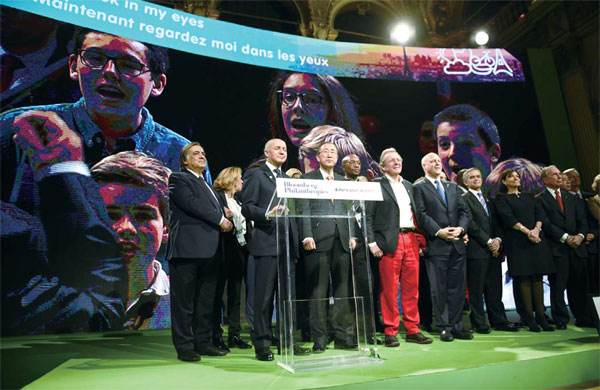 The draft was shorter than the one released on Dec 5. The previous text was 48 pages, while the French draft was 29, including a proposed agreement and decision.
Xie Zhenhua, China's special climate representative and head of the Chinese delegation in Paris, says opinion diverged on three fundamental issues: differentiation, financing and ambition. Differentiation refers to the question of how obligations between developed countries and developing countries will be separated in the new global deal.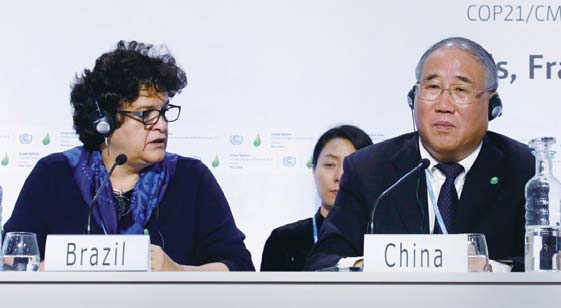 The latest draft is "open and balanced", which is "a starting point" for further discussion, Xie says, but more "landing zones" need to be found. "On the basis of the draft outcome, ministers need to strengthen their discussions to find solutions for the three fundamental issues. Once they do, an agreement will be reached."
China will discuss the draft with other G77 members, fellow members of the BASIC bloc of newly industrialized countries – Brazil, South Africa, India – and with developed countries to come up with constructive proposals for a successful outcome, says Xie, who had suggested China was in a position to play a bridging role between developing and developed nations.
The long-term goal was a sticking point in the Paris negotiations. Countries hold different views on whether the increase in the global average temperature should be kept below 1.5 C or below 2 C above pre-industrial levels.
US Secretary of State John Kerry said on Dec 9 that the United States had joined the "high-ambition coalition", which was unveiled on the previous day and is made up of about 100 countries, as well as the European Union.
The group demands the final deal recognize the proposed 1.5 C goal and include a clear pathway for a low-carbon future, a five-year update on national targets for cutting emissions and a climate finance package.
A goal to limit a rise in temperature is meaningless until there is a clear plan for how the world can achieve it, says Professor Teng Fei at Tsinghua University.
South Africa's negotiators said the latest draft text was a significant departure from and dilution of the principles that have guided such talks in the past. "We recognize that time is limited," says Edna Molewa, the country's minister of environmental affairs.
"But we believe allowing time for proper consultation will in fact save time and facilitate reaching an agreement."
Meanwhile, Indian negotiators have said a durable agreement cannot dilute historical responsibilities. The country says it fully understands the 1.5 C goal, but argues that developed countries would need to massively reduce emissions and scale up financing for developing countries.
Brazilian Environment Minister Izabella Teixeira said at a news conference on Dec 8 that the BASIC countries were discussing this issue and would present a joint position.
Yet observers say even the 2 C goal would require all parties to accelerate their efforts.
The global economy needs to cut carbon intensity by 6.3 percent a year from now until 2100 to prevent global warming in excess of 2 C, according to PricewaterhouseCoopers' 2015 low-carbon economy index.
Global carbon intensity fell by an average of 1.3 percent a year between 2000 and 2014. At this rate, a 2 C carbon budget would be spent by 2036.
China is the best-performing, non-EU country in the G20 in terms of decarbonization, recording a rate of 6 percent last year, according to the index.
"On the issue of finance, it is deeply disappointing that developed countries are not fulfilling their obligations and are trying to shift their responsibilities to developing countries," Prakash Javadekar, India's environment minister, said during a negotiating session on Dec 9. "There is no indication of scaling up of finance nor a clear roadmap."
Developed countries have promised to mobilize $100 billion a year in green climate financing by 2020, which should be a "starting point" for the post-2020 period, ministers from the four BASIC countries said in a joint statement issued on Dec 8.
Javadekar said at a joint news conference on Dec 8 that the Organization for Economic Cooperation and Development's claim last month that rich countries had provided $62 billion to help developing countries combat climate change last year did not reflect the real numbers.
Countries' commitments to cut greenhouse gas emissions, submitted to the UN as so-called intended nationally determined contributions, were included in the nonbinding French draft text, which would be a victory for the United States, according to some observers.
However, hundreds of delegates from NGOs staged an indoor sit-down protest at the Le Bourget conference site to call for enhanced pledges at the Paris conference on Dec 9.
South African minister Molewa says the BASIC bloc has played a "constructive and flexible" role at the conference.
At the joint news conference on Dec 8, the BASIC ministers called for resolutions to the remaining areas of divergence to achieve a clear, concise and coherent legal text acceptable to all parties.
Wu Changhua, director in Greater China for the nonprofit Climate Group, says pre-2020 climate action is essential to pave the way for post-2020 action.
Tasneem Essop, who is heading the World Wildlife Fund's delegation to the Paris talks, accused ministers of failing to take the hard decisions.
"Ministers need to close existing loopholes to make sure any pre-2020 review and ratcheting-up mechanism is comprehensive – covering adaptation, finance, and emissions reductions – and does not let countries off the hook," she says.