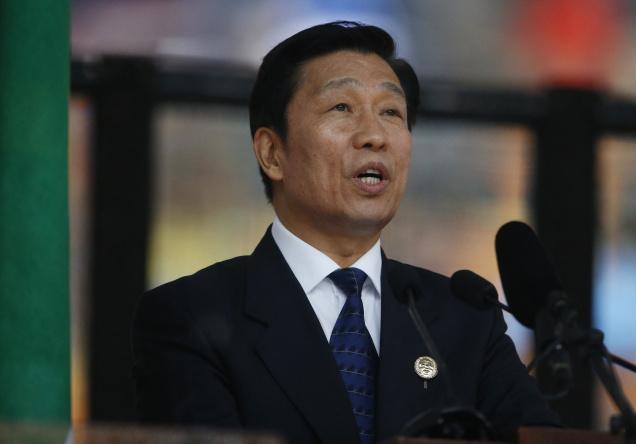 Relations between the nuclear-armed neighbors have improved considerably since a brief border war in 1962, but deep suspicion over a longstanding territorial dispute have remained an obstacle.
Li's five-day visit from November 3 is aimed at strengthening the strategic partnership of cooperation between the two countries, Chinese foreign ministry spokesman Lu Kang told a media briefing here.
Fan Changlong, one of the vice-chairmen of China's Central Military Commission, will also visit India next month – the top military official's visit following the conclusion of a major counterterrorism exercise by the two countries in Kunming earlier this month.
Sources in the government said that with improvement in relations between the two countries, especially after India relaxed security concerns and started extending ease of doing business facility to the Chinese companies like Huawei, there is more to share between the two countries and counter terrorism is one such issue where both can benefit by extending cooperation.
While Fan's visit to Pakistan is seen as an attempt to solidify relations in the backdrop of China's Dollars 46 billion investment in the China Pakistan Economic Corridor, his visit to India comes at a time when New Delhi and Beijing have made efforts to improve defence ties.
Indian officers say that in his three-day visit, Fan will maintain talks with Defence Minister Manohar Parrikar and different prime defence officers.
His visit is yet another opportunity for interaction between India and Pakistan to further implement the consensus reached between Indian and Chinese leaders and carry forward the Sino-India friendship, inject new momentum in bilateral ties and deepen bilateral cooperation, Lu said.
The Chinese general's visit to India comes in the immediate backdrop of a meeting of the Working Mechanism for Consultation and Coordination (WMCC) which since 2012 is focusing on resolving the tense standoffs arising out of Chinese troops' incursions into areas on the Indian side of the Line of Actual Control (LAC).
This will be fourth high-level visit from Chinese leadership to India in less than six month after the visits of Foreign Minister Yang Jeichi, President Xi, and Premier Li.
"Thanks to the concerted efforts of the two sides, recent years have seen sound and stable development of the strategic cooperative partnership for peace and prosperity between China and India", he said. Leaders of the two sides agreed to promote bilateral cooperation in an all-round way, and forge a closer partnership for development, he said.
The Chinese side views bilateral ties from a strategic and long-term perspective, and takes Indias development as an opportunity.