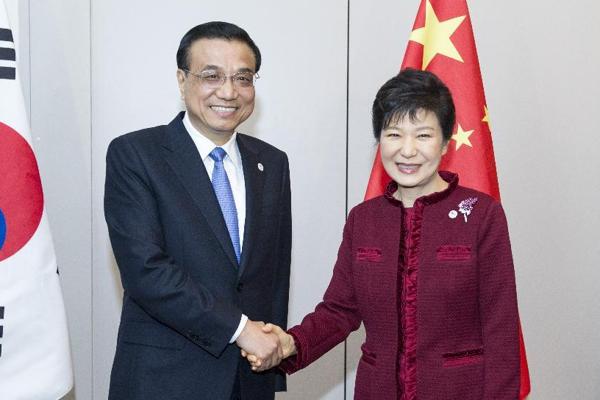 Chinese Premier Li Keqiang will pay an official visit to Seoul to attend the sixth trilateral summit between China, Japan and South Korea.
Seoul and Beijing have reached a deal on a bilateral FTA.
Li's landmark visit, his first as premier, to South Korea from Oct. 31 to Nov. 2 is at the invitation of South Korean President Park Geun-hye, Chinese Foreign Ministry spokesperson Hua Chunying announced Monday in Beijing.
This is the first visit to South Korea by a Chinese premier in five years.
"Li's visit will be good for relations with the ROK (Republic of Korea) as well as regional peace, development and prosperity," said Hua.
Li will hold talks with President Park, meet with other leaders and attend activities on economic cooperation and people-to-people ties. South Korean President Park Geun Hye was among the 30 heads of state who attended the Chinese Victory Day celebrations in Beijing last month, marking the 70th anniversary of the victory of China over invading Japan and the end of the second world war.
As for trilateral talks, Hua said China hopes the first meeting in three years will determine the direction of China-Japan-South Korea cooperation.
Japan, China and South Korea ended their 8th FTA negotiation round on a trilateral trade agreement without much headway last month.
The FTA will be in renewed focus in the summit in Seoul during Li's visit.
Japanese news agency Jiji quoted observers who said South Korea has been blocking progress in the trilateral talks because it wants to have a competitive edge over Japan in the Chinese market by capitalizing on its bilateral FTA with China, which is expected to go into force by the end of the year.
According to China's Ministry of Commerce data, the combined GDP of the three nations exceeds $16 trillion in total, accounting for more than 20 per cent of the world. The foreign trade volume of the three countries reaches almost $7 trillion, accounting for more than 20 per cent of the total trade volume of the world.
Meanwhile on Monday, Chinese Foreign Ministry spokesperson Hua said "China hopes the meeting will enhance China-Japan-South Korea cooperation in both traditional and new fields".
The Chinese Foreign Ministry called on all sides to "properly handle history issue and other sensitive issues on the basis of the spirit of "face up to history, look to the future" to boost trilateral cooperation.
Political leaders in China and South Korea have criticized calls by conservative Japanese politicians to present a sanitized and sympathetic version of Japan's history to the public and in textbooks, sidelining wartime atrocities committed by Japan.
Both China and South Korea have claimed that Japan has failed to atone for wartime atrocities committed in occupied Asia before and during the war.
China has earlier urged Japan to "make a clean break with militarism" and build trust with its neighbours after Abe last year honoured more than 1,000 convicted war criminals as "martyrs" who laid the foundations for modern Japan.
In the South China Sea, Beijing has pushed a very expansive definition of its maritime zone of control leading to friction with US-backed Japan and Philippines.
The China-Japan-ROK trilateral summit meeting has been an annual event from 2008 to 2012. The 5th meeting was held in Beijing in May 2012. Trade ties have suffered between China and Japan as the two sides have squabbled over a set of disputed islands.
China is South Korea's largest trading partner. Trade between the two countries has increased 35 times, from $6.37 billion in 1992 to $230 billion in 2013.
In efforts to boost China-South Korea trade and increase the use of the yuan in Korea, the two countries in December launched an offshore trading hub in Seoul for China's yuan currency.
The two currencies can now trade directly, cutting out the US dollar.