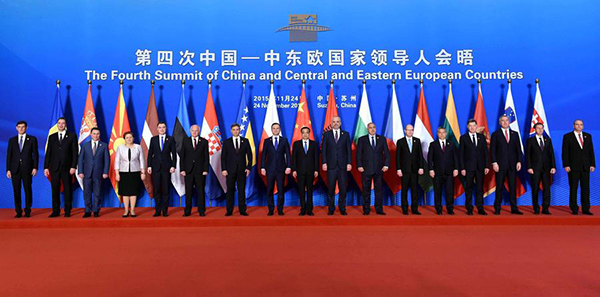 China is likely to invest more than $1 trillion overseas in the next five years, Premier Li Keqiang said on Tuesday.
He also said the country will probably import commodities worth more than $10 trillion during this period.
Although China's economic growth has slowed, growth volume is increasing annually, Li made the remarks at an economic and trade forum of China and Central and Eastern European countries in Suzhou, Jiangsu province.
He said that as long as China's annual economic growth remains above 6.5 percent in the next few years, it can get close to the target of becoming a high-income country by 2020.
This will provide more opportunities for the world, including Central and Eastern European countries, he said.
The volume of trade between China and these European nations set several records last year, Li said, adding that Chinese trade with the countries exceeded $60 billion.
The premier suggested that China and Central and Eastern European countries strengthen cooperation on connectivity projects, on which China holds technological and cost advantages.
At the leaders' meeting, both sides will also advance the China-Europe land-sea express route, Li said.
He said China can help Central and Eastern European countries with funding problems to upgrade infrastructure in transportation, electricity, industrial equipment and in and other fields.
"As long as they use Chinese equipment and products, China will provide more flexible funding conditions," Li said.
Yu Nanping, a professor of international relations at the School of Advanced International and Area Studies under East China Normal University, said Central and East European countries urgently need to upgrade outdated infrastructure to improve production efficiency.
This is because they are experiencing a "profound economic adjustment" after the European debt crisis.
Yu also said China's Belt and Road Initiative requires Central and East European countries to become a "logistics center" and "economic corridor" to extend the strategy in Europe.
Song Yunzhong, deputy director of the Energy and Technology Research Institute at China National Offshore Oil Corp, said it is a good opportunity to enter the European market as China has the technology and financial advantages while Europe needs Chinese investment.
"Investment is usually the forerunner when exporting equipment and technology, and this is mutually beneficial.
"We have huge foreign exchange reserves. Why not use them to support Chinese firms to 'go global' and improve exports of China's equipment and technology," Song said.