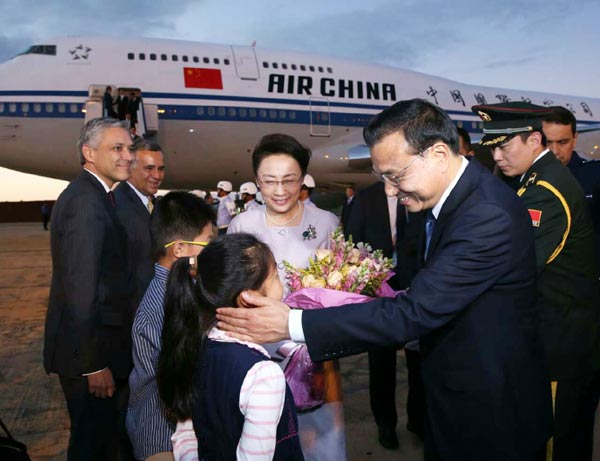 Premier Li Keqiang arrived in Brasilia on Monday to sign agreements on infrastructure, energy and aviation that experts say could reach at least $100 billion.
Li's visit, which will also take him to Colombia, Peru and Chile, aims to restructure China's resource-driven trade with Latin American countries by including more value-added products.
Li is scheduled to meet Brazilian President Dilma Rousseff in Brasilia, sign the agreements and meet the press. He will also address Chinese and local corporate leaders about China's plan to upgrade its trade with Latin America's largest economy through better financing and targeted industries. Li will then fly to Rio.
Brazil is the first leg of Li's Latin-America trip. He is accompanied by his wife Cheng Hong.
"I expect to deepen political trust and economic cooperation with Brazilian leaders with an focus on industrial capacity, equipment manufacturing cooperation and infrastructure construction," Li said upon his arrival at the airport.
China previously had said deals expected to be signed with Brazil include a feasibility study for a rail link from Peru's Pacific coast to Brazil's Atlantic coast.
The project seeks to lower transport costs of Brazilian products to China. It also would fit into China's plan to export globally its expertise on high-speed railways.
Under the Program of Investments in Logistics, Brazil will invest $65.8 billion in construction and expansion of its aging highways and railways.
A total of $20.8 billion will be used to double Brazil's 5,700 kilometers of highways, while $45 billion will be used to build 10,000 kilometers of railways, according to Xinhua News Agency.
Chen Duqing, China's former ambassador to Brazil, said the construction projects mean big opportunities for Chinese companies as Brazil strives to upgrade its infrastructure, especially the transportation system.
"It is imperative for the country to modernize its transportation network, so as to improve efficiency and encourage spending. Chinese companies are usually at a more advantageous position for these infrastructure construction biddings because they come with a financing plan," Chen said.
The investments are to be made through the private sector, with the government selling highway and railway concessions to private companies.
Brazil's transportation system consists mainly of main road and railway networks, where the railway capacity accounts for only 24 percent. Railway networks are used mainly in the south, the southeast and northeast of Brazil, more than 35 percent of which was built 60 years ago.
Chen said logistics are a main problem for Brazil because high costs have increased agricultural prices and reduced their competitiveness with overseas producers.
The country relies heavily on road transportation for grains, sometimes impossible to transport during rainy periods. Railways and waterways are cheaper and faster, but underdeveloped.
According to the Brazilian Association of Cereal Exporters (ANEC), the average price for shipping soybeans from Brazil has been nearly $98 per ton over the past three years, which is five times higher than in the United States and considered the most expensive in the world.
Chen said Chinese companies must go to Brazil to know local laws and rules before completing deals.
Brazilian daily newspaper O Globo reported a change of interest among Chinese investors for value-added industries.
"There is a kind of evolution of Chinese investment in Brazil. We have already been in a third wave. It started in the energy sector with China's State Grid, and now there is much interest in railways," O Globo quoted Guilherme Billi, head of the trade-promotion sector at the Brazilian embassy in Beijing, as saying.
The State Grid Corporation of China has invested more than $1 billion to construct and manage power transmission projects in Brazil. Chinese investors are also very interested in railways and "all the large railways groups in China want to operate in Brazil," added Billi.
China has been Brazil's largest trade partner since 2009, accounting for 18 percent of the country's foreign trade. Despite a slight decrease, bilateral trade last year was $78 billion, according to Brazilian authorities.