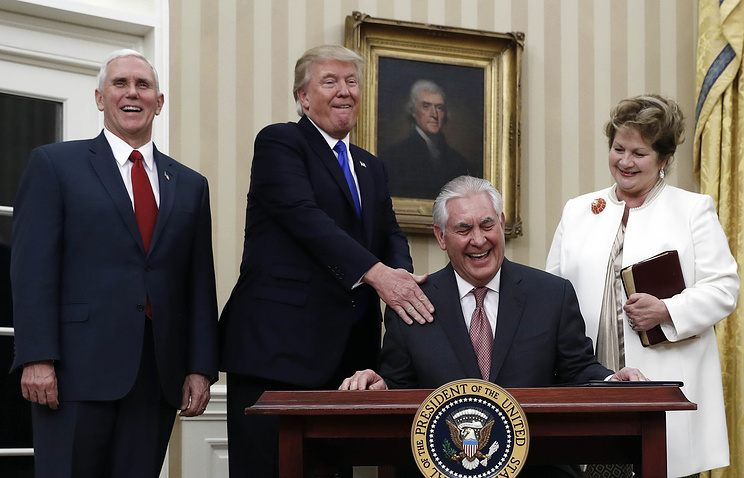 Russian Foreign Minister Sergey Lavrov has sent a message of greetings to US Secretary of State Rex Tillerson, who took office on Wednesday, a source at the Foreign Ministry said.
"Lavrov sent a message of greetings to the newly-appointed US Secretary of State to voice the hope for better relations (between Russia and the United States – TASS)," the source said.
He remarked that Moscow-Washington relations "suffered great setbacks during the Obama administration."
"We have quite a few areas for cooperation to the benefit our peoples and the whole world," the source said.
The source also said that Lavrov and Tillerson may meet during the international forums soon.
"We consider that at one moment such a meeting will be held and first of all this may be possible at various international events if minister Lavrov and State Secretary Tillerson happen to be there simultaneously," the source said.
When asked if the top diplomats could hold a meeting during this month's Munich Security Conference in Germany, the source said: "We are not ruling out anything."
"So far, there are no agreements on the meetings, but of course, when the foreign ministers of Russia and the US happen to be together at any international forum, they may contact with each other in this or that way, there is no doubt in that. We should wait and look if this is a separate meeting or just handshaking in a corridor," the source said.
Tillerson, the former CEO of Exxon Mobil, was confirmed as the Secretary of State by the US Senate on Wednesday.
The Munich Security Conference will be held on February 17-19. It is traditionally attended by heads of state and government, senior officials from international organizations and leading experts. Lavrov plans to take part in this year's event. Russian representatives have been attending the conference since the late 1990s.