Latin America's economy will stagnate in 2016 as commodity-dependent countries such as Brazil and Venezuela drag down the entire region, offsetting a positive performance in Mexico, the World Bank forecast.
Output in Latin America and the Caribbean will be flat this year, down from a 2.1 percent growth forecast last June, according to the World Bank's Global Economic Prospects report released Wednesday. That's due to a weaker outlook for South America, particularly Brazil and Venezuela. South America is forecast to contract 1.1 percent in 2016, versus the 1.7 percent growth the World Bank expected in mid-2015.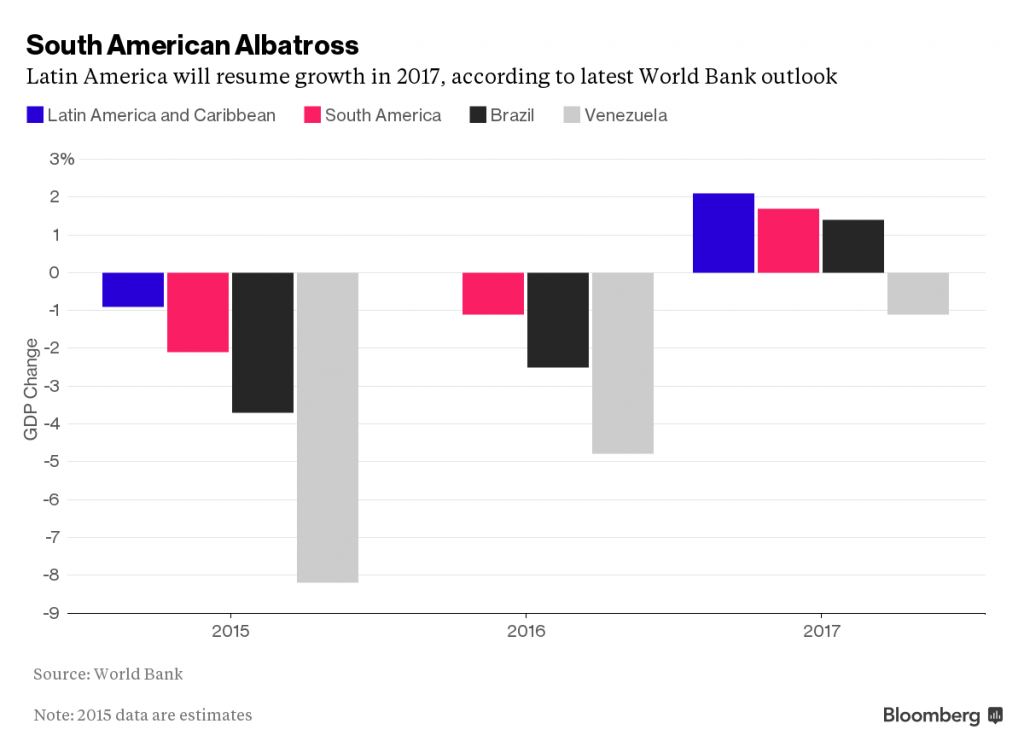 Plunging prices for everything from oil to metals and agricultural products have wounded South American nations, where commodities account for 70 percent of exports. Its nations are more dependent on global commodity markets than the Caribbean, Central America or Mexico, whose fortunes are more closely linked to the strengthening U.S. economy.
With both Venezuela and Brazil still suffering stagflation and political turmoil, they remain a source of risk for regional recovery, according to the report.
Brazil's economy will contract 2.5 percent this year, versus the World Bank's prior forecast for a 1.1 percent expansion. Venezuela will shrink 4.8 percent, down from the lender's previous forecast for a 1 percent decline. They will emerge from recession in 2017 and 2018, respectively.
Improved forecasts for both nations beyond this year assume Brazil re-anchors inflation expectations and narrows its budget deficit, lessening the need for tighter fiscal and monetary policies, and that the new composition of Venezuela's Congress provides for a gradual shift toward "a stronger macroeconomic and business-friendly environment."
"A protracted slowdown in one or both of these economies could have negative spillovers across the region," the report said.
Brazil is suffering from what is forecast to be its deepest two-year recession since at least 1901, according to data from the national economic research institute IPEA. The economic downturn in Brazil has a "moderate" impact on neighboring nations, according to the World Bank, which reduced 2016 growth forecasts for Bolivia, Colombia, Uruguay, Peru, Argentina and Ecuador. Of them, only the latter is expected to contract.
Growth in Mexico, Central America and the Caribbean will offset South America's decline this year. Their outlook is brighter due to closer economic ties to the firming U.S. market, the report said. Mexican exporters will also benefit from a weaker peso and reforms, including those that last year helped boost non-oil revenues to offset crude's decline. Latin America's second-biggest economy will grow 2.8 percent in 2016, according to the report.