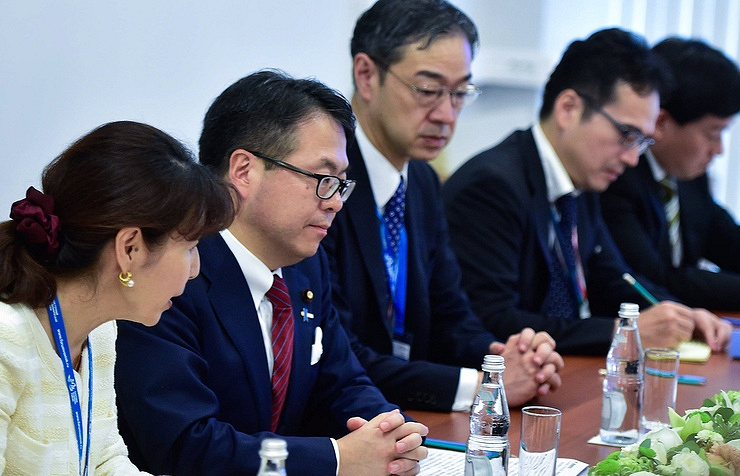 The projects discussed by Russia and Japan as part of the eight-point cooperation plan proposed by Japanese Prime Minister, Shinzo Abe, have not been affected by sanctions and are unrelated to the joint activities in the Southern Kuril Islands, Japan's Economy, Trade and Industry Minister, Hiroshige Seko, who is in charge with economic relations with Russia, told a news conference in Tokyo on Monday.
"We are carefully monitoring the process to make sure that the plan of economic cooperation with Russia is not affected by the sanctions. We continue to discuss the projects, which meet this requirement," the minister said. According to Seko, the mutual projects, which are currently discussed as part of the eight-point plan are unrelated to the joint activities in the "northern territories" (a term used by Japan to refer to the Southern Kuril Islands – TASS).
Moscow and Tokyo are currently getting ready for Russian President Vladimir Putin's visit to Japan scheduled for December 15-16. Russian presidential spokesman, Dmitry Peskov, earlier told TASS that Moscow hopes to intensify economic ties with Tokyo, while the peace treaty issue is "under discussion" at the expert level.
Japan's Prime Minister Shinzo Abe put forward an eight-point cooperation plan to develop relations with Russia during his meeting with Russian President Vladimir Putin in Sochi on May 6. The plan includes efforts to foster relations between Japan and Russia in the energy sector, small and medium-sized businesses, the promotion of industrialization of the Far East, expansion of the export base, as well as the proposal to bolster ties in the cutting-edge technologies, including nuclear energy, and humanitarian exchanges.
After Seko's visit to Moscow in early November, it was announced that the paties had identified 30 priority economic projects. Tokyo hopes that the implementation of Abe's economic cooperation plan will ensure progress in the dialogue on the peace treaty.