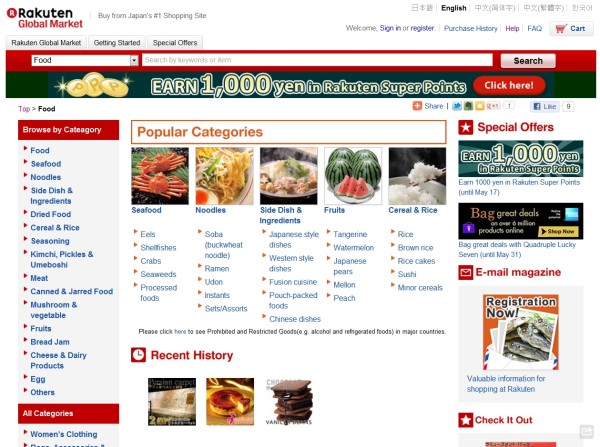 Rakuten's Q3 growth from China jumps 101%. The Tokyo-based company plans to open a store soon on Chinese marketplace JD.com.
The falling value of the Japanese yen and China's relaxed cross-border e-commerce policies have helped Rakuten Inc., Japan's dominant online marketplace operator, double its web sales in China in the third quarter.
Founded in 2007, Rakuten says it now sells about 150 million products from over 41,000 merchants on its Japanese online marketplace, Rakuten.jp.
Rakuten operates localized sites in 13 countries, including Japan, the United States, the United Kingdom, Spain, Brazil, Germany, France, Austria, Singapore, Thailand, Malaysia, Indonesia and Taiwan. CEO Hiroshi Mikitani has pursued a global strategy that has included several e-retail acquisitions, such as of Buy.com in the U.S. and PriceMinister in France.
Rakuten also operates the Rakuten Global Market, an online marketplace offering 1.2 million Japanese products from 10,000 merchants to consumers outside of Japan. China represents the fastest-growing country in terms of purchases on the Rakuten Global Market, the Rakuten spokesman says. "Our Q3 total cross-border trading showed 50% growth year on year," he says. "Our Q3 growth from China showed a significant increase of 101%."
Japanese products have become much cheaper to Chinese consumers as the Japanese yen has depreciate about 30% over the last few year.
In addition, China has relaxed its policies on online imports, making it easier for Chinese consumers to buy from foreign e-commerce sites. For example, the duty charged on small online purchases from abroad is lower than the tax charged on domestic purchases in China, and China has created free-trade zones in nine cities where parcels from overseas move through customs faster than before.
Rakuten says Chinese consumers are particularly interested in unique and high-quality Japanese-made goods. "We will also continue to explore new avenues to empower Rakuten merchants in expanding their businesses in China." the spokesman says.
This week, Rakuten announced it will open an online store to sell Japanese products on the e-commerce site of Chinese e-retailer and marketplace operator JD.com, No. 1 in the Internet Retailer 2015 China 500.
This is not the first time Rakuten has entered China. In 2010, Rakuten and Chinese search engine company Baidu created a joint venture to operate Rakuten.cn, aiming to sell products in China to Chinese consumers. After only 18 months, the site was closed by Rakuten in 2012, reflecting the fierce e-commerce competition in China.
In April 2015, Rakuten also announced it had invested in a Chinese cash-back shopping site, Fanli.com, but did not disclose the investment amount.
Rakuten is No. 20 in the Internet Retailer Asia 500. JD.com is No.1 in the Internet Retailer 2015 China 500. Rakuten is the leading online retail site in Japan, accounting for about 20% of web sales in 2014, according to Euromonitor International.