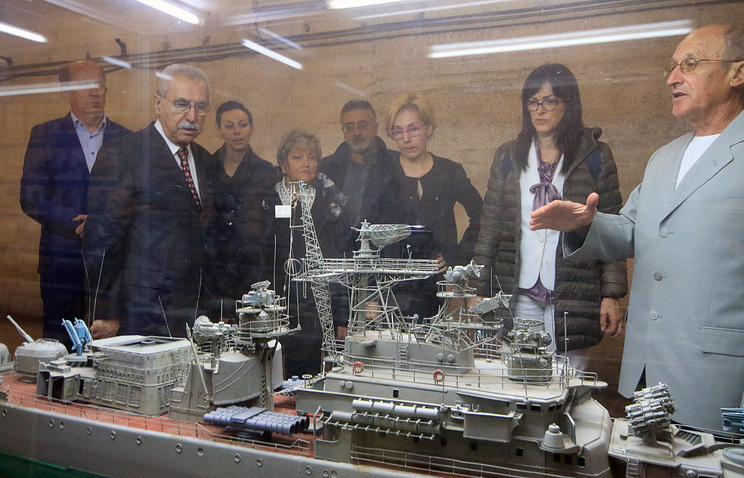 The latest visit by a delegation of Italian lawmakers and businesspeople to Crimea will give an impetus to the development of economic relations between Italy and Crimea, President of the Regional Council of Veneto, Roberto Ciambetti, said during a meeting with Crimean parliament speaker Vladimir Konstantinov on Friday.
"We want to give an impetus to economic relations (between Italy and Crimea – TASS), because our people, our voters believe that their well-being is the basis of their rights," the lawmaker said. According to Ciambetti, the current visit will also help build a new bridge of friendship between Italy, Crimea and Russia in general, "because the ties that bind our two peoples are much deeper than one can imagine."
Konstantinov invited Italian businesspeople to invest in various economic sectors in Crimea, above all, in agriculture and the construction industry. "I invite you to take part in opening businesses here in Crimea. We will find common ground for the implementation of mutually beneficial projects," he said. The speaker also noted that at the moment "Crimea is becoming a center of rapid regional economic growth due to the implementation of a number of federal programs on its territory."
Members of the Italian delegation called the sanctions imposed against Russia unfair and unfounded. "We have come to say that we are opposed to anti-Russian sanctions. These sanctions are unfair, because they affect all those who are weaker and poorer. Sanctions lead us nowhere," Ciambetti said.
The delegation of MPs and businesspeople comes from five Italian regions – Veneto, Liguria, Lombardy, Tuscany and Emilia-Romagna. TASS earlier reported that the parliaments of these regions passed resolutions earlier this year calling to recognize Crimea and end sanctions against Russia.
Crimea's representatives hope for return visit to Italy
Crimean officials and business community representatives are looking forward to paying a return visit to Italy.
"Of course, if we receive an invitation [to visit Italy], we will organize this visit, for us it is important and beneficial," Konstantinov said.