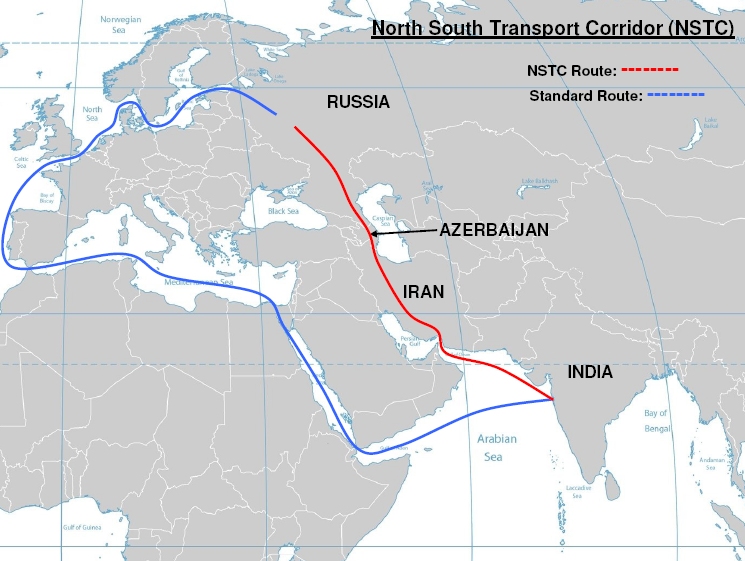 NEW DELHI: The much-awaited International North South Transport Corridor (INSTC) through Iran has been set in motion, with New Delhi, Tehran, Moscow and 10 other nations at a recent meeting in Delhi approving draft transit and customs agreements, which will provide the legal framework for moving freight on ship-rail-road route linking India, Iran, Russia, Central Asia and Europe.
India, with Iran's assistance and supported by Russia, has moved fast to make the INSTC project a reality after over a decade following the deal between Tehran and P-5+1 (US, Russia, China, UK, France and Germany) over Iran's nuclear programme that brightened the prospects of withdrawal of international sanctions against Tehran.
Last month, the Modi government hosted a meeting of the INSTC coordination council away from the public glare here.
Besides senior officials of India, Iran and Russia, representatives of most of the 10 other participants and prospective participant nations attended the meeting.
They agreed to undertake "practical steps on issues related to logistics and infrastructure necessary for making the proposed transport corridor operational", an official said, adding, INSTC draft transit and customs agreements are under consideration by all the stakeholders.
The INSTC transit and customs agreements will provide the legal framework necessary for addressing logistical issues and facilitate smooth movement of freight through the corridor. The current corridor for India to transport goods to Eurasia and Europe is via Suez Canal.
Officials here told ET that INSTC could also serve as the route for Southeast Asian countries to send their cargo to Europe instead of the Suez Canal route to cut down on both cost and time.
Speaking at the Delhi meet, Foreign Secretary S Jaishankar mooted a proposal for having an inter-country agency for making the corridor operational.
India, Russia and Iran jointly envisaged the INSTC in September 2000 as a multi modal transportation corridor, which would link the India Ocean and Persian Gulf to the Caspian Sea through Iran and onward to North Europe via Russia.
Various Central Asian and Eastern European countries joined the initiative later. Kuwait has now expressed interest to join the corridor project. The last 15 years saw very little progress on the ground due to international sanctions on Iran.
The significance attached by India to INSTC can be gauged from the fact that the Delhi meet was held back-to-back with a meeting of stakeholders in Mumbai in June.