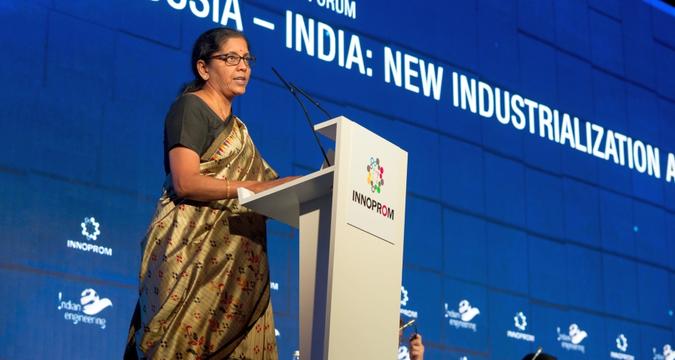 The high level Indian delegation to INNOPROM 2016 held intense discussions and consultations with Russian political leaders and business houses over the past three days in Ekaterinburg, during the course of Russia's largest industrial trade forum.
Nirmala Sitharaman, Minister of State (Independent Charge) for Commerce and Industry led the Indian delegation, also comprising Chief Ministers of the 3 most dynamic states of India, Andhra Pradesh (AP), Maharashtra and Rajasthan, and senior officials and representatives of 110 companies. They held detailed discussions to identify new areas of cooperation between India and Russia. The thrust of the discussions was to explore possibilities of investment in India, particularly in these Indian States, and in Russia and in the Urals Region as a whole.
This is the first time in several years that such a high level delegation has come to Russia, indicating the highest level of commitment to significantly strengthen India's Special and Privileged Partnership with Russia.
The delegation met Dennis Manturov, Russian Minister for Industry and Trade, Evgeny Kuyvashev, Governor of Sverdlovsk, Boris Dubrovskiy, Governor of Chelyabinsk Province and concluded their visit with a call on Russia's Prime Minister Dmitri Medvedev. Sitharaman and the three Chief Ministers toured the Indian pavilion, where Prime Minister Medvedev visited the Stalls of the three States.
Sitharaman informed Medvedev that the BRICS Industries Ministers' meeting would be held before the forthcoming BRICS Summit in Goa in October 2016. They agreed that they need to build upon the excellent bilateral cooperation in the defence, nuclear, oil & gas and other sectors.
They also discussed ways and means to achieve the target of $30 billion by 2025, set by the leadership of India and Russia, strategic initiatives such as India's association with the Eurasian Economic Union (EAEU) and the International North South Corridor. Sitharaman also invited intellectuals, students and journalists to visit India and invited Manturov to soon lead a trade delegation to India, including to these 3 states.
N. Chandrababu Naidu, AP Chief Minister, invited Russian participation in the construction of 'Amaravati', AP's new Capital. He invited Russian investment in the defence and aerospace sectors and in the civil nuclear sphere. He spoke of huge opportunities in the Information and Pharmaceutical sectors and said Russia should focus on India as the fastest growing major economy of the world. He has targeted a 15% annual growth rate for AP.
Devendra Fadnavis, Maharashtra's Chief Minister, underlined the state's role as the economic powerhouse of India and agreed to identify companies in Maharashtra and Russia to partner with each other. He spoke of the immense popularity of Bollywood in Russia, and also signed an agreement for Sister-State relationship with Sverdlovsk region.
Vasundhara Raje, Chief Minister of Rajasthan, emphasized the potential of minerals and mining in Rajasthan and spoke of the need for cooperation in the areas of urban infrastructure and water management. She also stressed Rajasthan's position as the tourist destination of India and the vast potential in this area.
All three Chief Ministers visited St Petersburg and signed different agreements with St Petersburg as well as with the Hermitage Museum.
India's participation at INNOPROM 2016 marks a new milestone in India-Russia relations, in accordance with directions given by Indian Prime Minister Narendra Modi and Russian President Vladmir Putin. It opens avenues for future cooperation between the new India and the new Russia. Both countries are committed to ensure swift follow-up measures, including business delegations and high level visits over the next few months, to keep up the momentum.