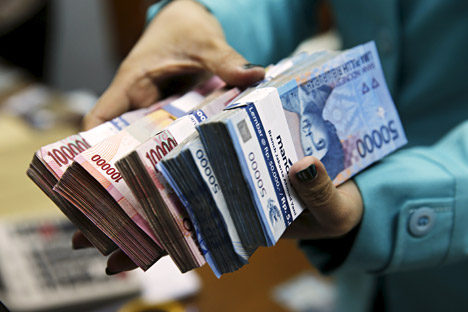 In April 2015, Indonesia said it was ready to switch to trade settlements with Russia in the ruble and rupiah. Supporting a Russian proposal to use national currencies for trade, Sofyan Djalil, Indonesia's Coordinating Minister of Economic Affairs said Jakarta would like to reduce its dependence on the U.S. dollar.
The Russian and Indonesian national currencies have been constantly losing value vis-à-vis the U.S. dollar over the last twelve months.
Bilateral trade between Russia and Indonesia, which amounted to $7 billion in 2014, is not dependent on natural resources.
US dollar under threat
If Russia and Indonesia agree to settle their transactions in national currencies, the move may affect Indonesia's relations with the U.S., especially since Jakarta wants to join the Trans-Pacific Partnership.
"The U.S. is categorically opposed to the use of national currencies since it sees this as a threat to the use of the dollar in the world economy," says Vladimir Burlachkov, a professor at the Plekhanov Russian University of Economics. However, Indonesia is keen to strengthen trade and economic relations with Moscow, he adds.
The use of national currencies would expand bilateral trade and investment between Russia and Indonesia, according to Burlachkov.
Economicsorpolitics?
According to еТоrо managing director, Pavel Salas, the joint initiative between Russia and Indonesia has more to do with politics than economics, but it may translate into a real economic advantage as trade between the two countries expands.
If Russia manages to find customers in Indonesia for its machinery and weapons, secure contracts for the construction of infrastructure facilities, and grant ruble loans for such projects, then the switch to national currencies would be politically and economically expedient, says Maxim Vasin, head of the methodology department at the National Rating Agency. "An effective system of bank settlements is necessary: direct exchange of the ruble to the rupiah requires additional infrastructure," he adds. The countries could initiate this process by using national currencies for state contracts and intergovernmental agreements, according to Vasin.
A growing number of countries are looking to substitute the dollar with national currencies for international trade settlements says Olga Meshcheryakova, director of the Peramo management company . "Russia already has the relevant experience in trade with India and China, and is now discussing this issue with Vietnam and Thailand," she adds.