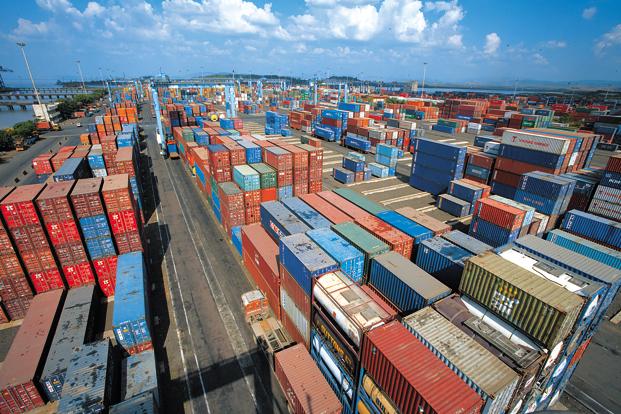 New Delhi: A sharp decline in the gold imports helped narrow India's trade deficit to a record low, as merchandise imports contracted faster than exports in March amid tepid global demand.
Data released by the Union commerce ministry showed that while merchandise exports contracted for the 16th straight month by 5.47%, merchandise imports shrank 21.56%, leading to a trade deficit of $5 billion in March. During the same month, China's exports grew by 11.5%, breaking the declining trend, and imports contracted 7.6%, leaving that country with a trade surplus of $29.9 billion.
India's exports fell 15.9% to $261.1 billion in 2015-16 while imports contracted by 15.3% to $379.6 billion. The trade deficit for the year was $118.5 billion.
Aditi Nayar, senior economist at ratings agency Icra Ltd, said that the halving of the merchandise trade deficit in March from a year ago was predominantly on account of a sharp decline in gold imports following the jewellers' post-budget strike as well as lower net oil imports led by both a fall in price and volumes.
"Although non-oil, non-gold imports contracted in March 2016, the healthy growth in imports of some items, such as transport equipment and electronic goods, signals a nascent uptick in domestic investment and consumption demand," she added.
Gold imports declined 80.5% to $973 million in March.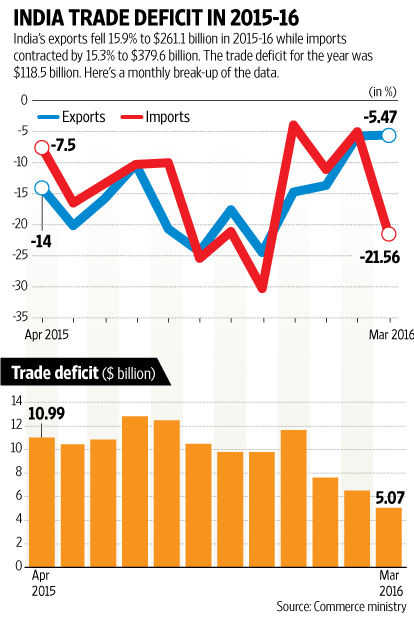 According to the professional forecasters' projection released by the Reserve Bank of India earlier this month, India's merchandise exports and imports are expected to grow 1.7% and 4.4%, respectively, in 2016-17.
India's share of world exports declined from a peak of 1.7% in 2014 to 1.6% even as some major advanced economies and peer Emerging Market and Developing Economies (EMDEs) have gained share. "This suggests that factors like the rising incidence of protectionism and competitive depreciation might have affected the export performance, since depressed global demand is common to all exporting countries," RBI said in its monetary policy report on 5 April.
The World Trade Organization has projected growth in the volume of global trade to remain sluggish in 2016 at 2.8%—the same as in 2015. While imports of developed countries are estimated to moderate this year, demand for imported goods in developing Asian economies is expected to pick up.
Non-oil imports contracted 17.9% in March,while oil imports slumped 35.3% due to falling crude oil prices.
Twelve out of the 30 import items reported growth in March, compared with eight in February. Among the major items, the import of coal (-37.4%), chemicals (-1.6%), pearls (-11.2%), iron and steel (-7%), machinery (-5.6%) contracted while import of transport equipment (34.8%), electronic goods (19%) shot up.
Shipments of 12 out of the 30 top export items grew in March, against 14 in Febraury.
Among the major items, export of gems and jewellery (4.6%), pharmaceuticals (4.1%) and chemicals (0.2%) increased, while export of engineering goods (-11.2%), readymade garments (-4.1%) and petroleum products (-21.4%) fell.