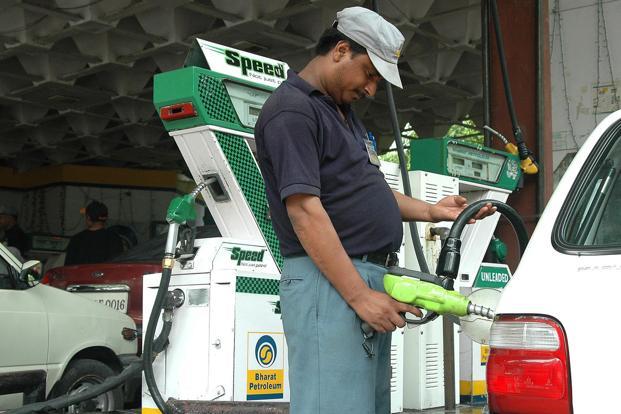 * Sept fuel demand surged 15.1 pct, Diesel use up 20.1 percent
* Growth in fuel demand, diesel use highest since August 2005
* Gasoline use up 25.4 percent, strongest since May 2013
NEW DELHI, Oct 16 (Reuters) – India's fuel demand in September rose at the fastest pace in more than a decade, providing further evidence of a pick up in industrial activity in Asia's third-largest economy.
Fuel consumption, a proxy for oil demand, surged 15.1 percent in September from the same month a year ago, the biggest rise since August 2005, according to data from the Petroleum Planning and Analysis Cell (PPAC) of the oil ministry.
The fuel consumption figures come days after data showing India's industrial production expanded at its fastest pace in nearly three years, helped by a surge in capital investment.
Fuel sales in the world's fourth-largest oil consumer totalled 14.70 million tonnes last month, the data showed, led by robust sales of gasoil and gasoline.
Diesel consumption, which accounts for about 40 percent of refined fuels used in India, rose 20.1 percent to 5.89 million tonnes, the strongest rise since August 2005.
Weak monsoon rains spurred demand for diesel-fuelled generators used to power pumps for wells, as roughly half of India's farmland lacks irrigation.
The South Asian nation suffered its first back-to-back drought in three decades this year, with the rainfall deficit of as high as 47 percent in some regions.
Construction activity also likely rose due to the drier conditions with the data showing consumption of bitumen, used for making roads, up by 51.6 percent, while fuel oil usage was up 7.1 percent in September.
Sales of gasoline, widely used for transportation, climbed 25.4 percent to 1.9 million tonnes from a year earlier, the sharpest rise since May 2013, as demand for passenger vehicles rose in the month.
Cooking gas sales increased 4.1 percent to 1.6 million tonnes, while naphtha sales rose 38.4 percent to 1.2 million tonnes.