NEW DELHI: India's economy expanded 7 per cent in the first quarter, well below expectations and slower than the preceding three-month period, putting a dent in the Modi government's optimism about a strong recovery and adding to pressure on the central bank to cut rates. But India is still on course to overtake China's growth rate to become the world's fastest-growing major economy.
Before the growth number was announced on Monday evening, the government made a pitch to Standard & Poor's for a rating upgrade, citing growth and economic fundamentals among other things. While China's economy expanded 7 per cent in April-June quarter, the consensus expectation for India's GDP growth had been 7.4 per cent.
The government has been battling disappointment over not living up to its promise to get going on reforms, failing to get key legislation passed because of Opposition resistance. This includes the land acquisition amendment and legislation related to the goods and services tax (GST). Government spending, which has been stepped up in order to make up for muted private investment, doesn't seem to have filtered through into the economy yet.
Separately released data showed that the government has spent 36 per cent of its capital budget in the first four months of the current fiscal itself. In other disappointing news on Monday, the core sector index – which measures the output of eight infrastructure industries -rose a modest 1.1 per cent in July, pointing to the challenge facing the government in getting the investment cycle going.
Meanwhile, a worsening monsoon with a rainfall deficit of 11 per cent has raised concerns about rural demand with the festive season round the corner. The government needs to find ways to tackle short-term difficulties, said economists.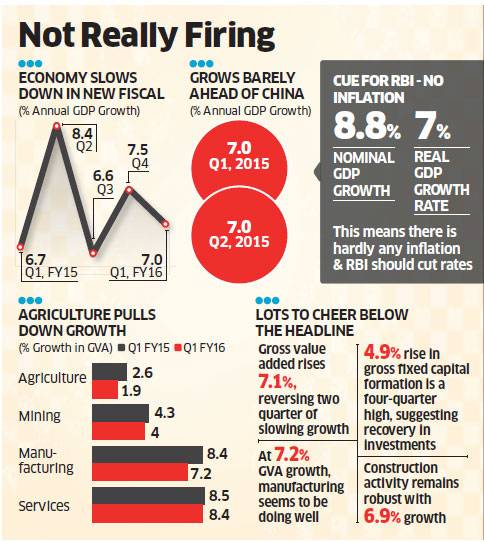 "There's a lot of emphasis that's being put on the opportunities that lie ahead for India and not too much attention is being paid to the challenges that remain today," said Jyotinder Kaur, principal economist, HDFC Bank, summing up the sentiment that more action is needed on the ground if India is to make the most of opportunities arising from China's economy slowing down.
The Reserve Bank of India will face increased pressure to cut rates with the data showing below par growth and inflation having slowed. That could come sooner rather than later, going by some of the signals that could be read into Governor Raghuram Rajan's statement in the US. "We are on a phase of accommodation. We are still in that phase. We are looking at the data to see what more room we have," he was cited as having said by PTI. RBI's next monetary policy announcement is scheduled for September 29.
GDP at current prices, which includes the effects of inflation, was up only 8.8 per cent compared with 13.4 per cent in same quarter last year, suggesting hardly any inflation pressures. "While the government stands committed to further the reforms agenda, we need to equally create conditions that provide capital at affordable cost to our entrepreneurs," the Federation of Indian Chambers of Commerce and Industry grouping said, calling for a rate cut. RBI has cut the policy rate by 75 basis points since January amid a sharp fall in consumer inflation and negative wholesale inflation for many months, opening it up to rising criticism that it's overcautious.
The government has repeatedly hinted at the need for rate cuts, seeing it as the only lever that can get consumer demand going as its own hands are tied because of fiscal constraints.
"I think that, if you think that, looking ahead the real problem is deflation and we have managed to get inflation under control, then that has implications on how we should run monetary policy going forward," Chief Economic Advisor Arvind Subramanian told ET Now last week.
The slowdown is consistent with private forecasts that see India slowing from 7.3 per cent growth in FY15 because of the deceleration in the Chinese economy that's likely to pull down overall global growth.
Ratings agency Moody's has already lowered its growth estimate for the year to 7 per cent from 7.5 per cent estimated earlier, citing concerns on reforms and other factors. Going forward, the signals are mixed. While corporate results have been lacklustre, indirect tax collections point to some strength in manufacturing, further substantiated by strong car sales in July.
ET View:
Cue for the RBI to act Growth has not gained momentum, obviously, with only two sectors — construction, besides trade, transport, communications, etc — showing a higher growth rate in Q1 this year over Q1 in 2014-15. Significantly, Investment has failed to pick up and the Investment Rate has declined further. Exports show an absolute decline.
Agricultural growth has dipped and the sector, electricity, gas and water supply, has seen sharp deceleration. The remarkable feature of the latest numbers is that economy-wide price rise has been practically zero in Q1.