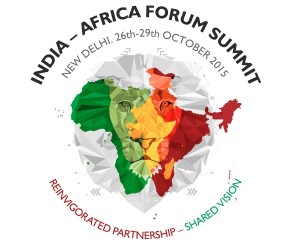 Ahead of the India-Africa Summit, Indian Prime Minister Narendra Modi on Saturday said India was proud to host the event which reflects a desire by the two sides to engage more intensively for a better future.
Representatives of 54 African nations, including heads of state and government of around 40 countries and powerful African Union, are expected to participate in the four-day India-Africa Summit beginning in New Delhi on October 26.
Among powerful African leaders who have confirmed participation are South African President Jacob Zuma, Egyptian President Abdel Fattah el-Sisi, Zimbabwe President Robert Mugabe and Nigerian President Muhammadu Buhari.
Stepping up trade ties, particularly in oil and gas sector, strengthening maritime cooperation and lifting the overall engagement to a new high will be the main agenda of the summit.
India's current trade with Africa is around $75 billion and it has granted $7.4 billion for various developmental and capacity building projects in the last four years. India has implemented 137 projects in 41 African countries during the period.
Expanding trade ties will be a major focus area at the summit which will see the participation of over 400 business delegates from Africa besides all major Indian chambers of commerce.
A large number of African countries, including Tanzania, Sudan, Mozambique, Kenya and Uganda, have huge oil and gas reserves and India wants to invest in the sector to fuel its economic growth.
The summit will also focus on expanding ties in areas of energy, healthcare, infrastructure, technology and innovation.
Top officials of the African nations will reach Delhi on October 26.
Indian Foreign Minister Sushma Swaraj will host her African counterparts and ministers on October 27.
The summit meeting will be held on October 29 in which heads of state and government will participate. Bilateral meetings have been scheduled for October 30.