Indian conglomerate Mahindra & Mahindra (MAHM.NS) is re-thinking the strategy for its loss-making Korean automaker Ssangyong Motor Co (003620.KS), tapping the brakes on its planned push into the United States to focus instead on China.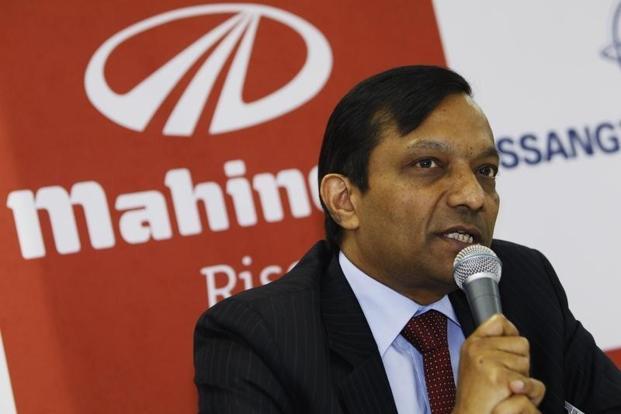 Mahindra's Executive Director Pawan Goenka told Reuters the company was in talks with Chinese firms to enter into a contract manufacturing agreement or form a joint venture to build Ssangyong vehicles in China, where it currently exports to from Korea and sells through a local distributor.
Mahindra rescued Ssangyong from near-insolvency in 2011, acquiring a stake of just over 70 percent, but South Korea's No. 4 car maker has struggled to break even, reporting a net loss of 61.9 billion won ($51.6 million) for 2015, although it made a net profit in the final quarter.
Making cars in China would mean Ssangyong could lower its prices there, and Goenka said it made sense to focus on expanding sales in an existing market before going to the United States and building a distribution network from the ground up.
"China is easier to look at right now because Ssangyong already has a presence there. We have some traction and need to ramp up our products for local manufacturing," Goenka told Reuters.
"China is here and now, U.S. is the future. We are still deciding what it takes for us to launch in the U.S."
Boosting overseas sales has taken on a greater urgency for Ssangyong due to slumping sales in Russia, once its biggest export market contributing more than 20 percent of total shipments. Exports made up only a third of Ssangyong's total sales of144,764 vehicles in 2015, down from more than half in 2014, when it sold 141,047 vehicles, and substantially short of its target for exports of 60 percent of total sales.
Also, the Korean car maker does not currently have a vehicle that meets U.S. regulatory requirements, Goenka said.
"The U.S. is not somewhere you can go in without significant investment in product and brand development. Given the various priorities we have, the U.S. is now somewhat on the back burner, but not stopped," Goenka said.
CHINA CHALLENGE
Goenka, who is also chairman of Ssangyong, did not give details about which Chinese companies it was talking to.
Under Mahindra's ownership, Ssangyong is investing nearly $1billion in refreshing its product line-up. Mahindra hopes the launch of its new compact sport-utility vehicle (SUV) Tivoli, which has seen strong demand in South Korea, will help drive up sales in China, where smallish SUVs are booming.
While the China market might appear a good fit for Ssangyong's budget-focused models, growth in the world's biggest car market has slowed significantly and an effort to set up production there faces challenges.
Most global car makers already have a joint venture or production agreement with local companies, which could make it tough for Ssangyong to find the Chinese partner it needs to build cars there.
Also, given rampant excess auto production capacity, China's industrial policymakers are no longer so generous in allowing foreign automakers to form a joint venture with a Chinese firm.
Because imported cars are subject to high duty, Ssangyong's share of the Chinese car market is miniscule compared with market leaders such as Volkswagen AG and General Motors Co.
Overall, China car sales rose a relatively sluggish 3 percent to 24.6 million vehicles in 2015. Ssangyong sold some 2,460 cars in China in last year, down from 11,976 in 2014.
"Yes, right now China is down, but if we can get the right pricing then I think we should be able to benefit there," Goenka said.
CHINA VS U.S.
Mahindra had said in 2014 it was studying the possibility of selling Ssangyong cars in the United States.
An executive at Ssangyong's team working on its U.S. strategy said he was not aware of any plan to put the project on the back burner, pointing out it did not envisage entering that market until around 2020.
"I have never heard that before. Never. As far as we are concerned, we are going ahead with the project," said the executive, who declined to be named because he was not authorized to speak to the media. "In fact we are supposed to discuss it in the upcoming Ssangyong board meeting in March, and we have been preparing for it since mid-January."
Goenka said the company was working with consultants on assessing the U.S. market and a final proposal had yet to be made to Ssangyong's board of directors.
Another source familiar with the matter told Reuters that "there could be a difference of opinions" between the management teams at Ssangyong and parent company Mahindra regarding the United States. "My understanding is that Mahindra wants Ssangyong to take a breather in the U.S. entry plan, while Ssangyong is making progress in the project," the source said.
A Ssangyong spokesman in Seoul declined to comment.
In 2014, Ssangyong held talks with Geely Automobile Holdings (0175.HK) about the possibility of contracting the Chinese firm to manufacture its cars in China, according to three individuals involved in the discussions.
The talks foundered on Geely's condition that any Ssangyong cars it built would carry the Geely brand name and be marketed through its distribution channel, the sources said.