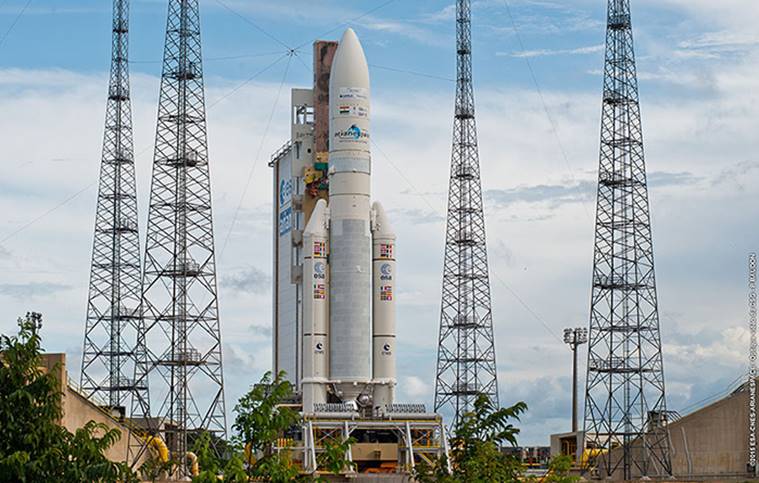 India's latest communication satellite GSAT-15 was successfully launched by Ariane-5 rocket in the early hours today from the spaceport of Kourou in French Guiana.
The European launcher blasted off at 03:04 AM (IST) and hurled the GSAT-15, designed to deliver telecommunications services, as well as dedicated navigation-aid and emergency services, into space in a flawless flight.
GSAT-15 was launched into a Geosynchronous Transfer Orbit (GTO) after its co-passenger Arabsat-6B (BADR-7) was injected into space.
"Arianespace successfully launched two satellites this evening (local time): Arabsat-6B (BADR-7) for the operator Arabsat, and GSAT-15 for ISRO (Indian Space Research Organisation)," Arianespace said.
GSAT-15, weighing 3,164 kg at lift-off, is a high power satellite being inducted into the INSAT/GSAT system. It carries a total of 24 communication transponders in Ku-band as well as a GPS-Aided GEO Augmented Navigation (GAGAN) payload operating in L1 and L5 bands, ISRO said.
It said GSAT-15 is the third satellite to carry GAGAN payload after GSAT-8 and GSAT-10, which are already providing navigation services from orbit. It also carries a Ku-band beacon as well to help in accurately pointing ground antennas towards the satellite.
Speaking at Kourou, ISRO Satellite Centre (ISAC) Director M Annadurai said, "GSAT-15 satellite signal has been acquired by Master Control Facility at Hassan (in Karnataka). The initialisation commands are in process and the satellite health is hail and healthy."He said the launch of GSAT-15 will enable ISRO to provide continuity of service to Indian users in Ku-band and the navigation payload GAGAN of GSAT-15 will provide in orbit backup to ensure safety of life navigation services in civil aviation sector as well as other location based services to various services in the Indian region.
Annadurai also said other two communication satellites GSAT-17 and GSAT-18 are getting ready for launch by Ariane vehicle in the next year. "The realisation of both the satellites are in very advanced stage."
The launch was telecast live by Doordarshan.
GSAT-15 brings in Ku-band capacity to augment as well as provide replacement to indigenous operational satellite capacity, ISRO said.