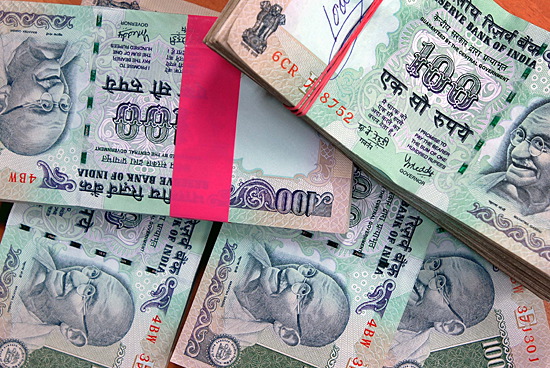 IMF Survey
March 11, 2015
Growth forecast to rise to 7.2 percent in this fiscal year
Firm policy actions, lower global oil prices helping to improve economic outlook
Reform of agriculture, mining, power sector, labor markets can enhance growth
The Indian economy is reviving, helped by positive policy actions that have improved confidence and by lower global oil prices, says the IMF in its annual assessment of the Indian economy
To continue on this trend, India needs to revitalize the investment cycle and accelerate structural reforms, says the report.
The Indian economy is the bright spot in the global landscape, becoming one of the fastest-growing big emerging market economies in the world.
"Growth numbers are now much higher and the current account deficit is comfortable, in part due to the fall in gold imports and lower oil prices," said Paul Cashin, IMF Mission Chief for India. "New investment project announcements have started to pick up, particularly in the power and transport sectors."
He also noted that bolstering financial sector health and further financial inclusion would support growth going forward.
While the country is well placed to cope with external shocks, there are possible risks on the horizon, both external and domestic. "Spillovers from weak global growth and potential global financial market volatility could be disruptive, including from any unexpected developments as the United States begins to raise its interest rates," says Cashin.
On the domestic front, the weaknesses in corporate balance sheets—especially in light of the increase in corporate leverage of the past few years—and worsening bank asset quality bear watching, as they could weigh on growth.
Growth forecasts higher
India's economic profile recently got a lift as the country improved the way it measures economic output. (The IMF staff report, however, was prepared before the release of these new growth numbers.) The revised national accounts series incorporates numerous conceptual and methodological improvements that make them more consistent with international best practices.
Based on this revised GDP, the IMF forecasts growth will strengthen to 7.2 percent in 2014/15 and rise to 7.5 percent in 2015/16, driven by stronger investment following improvements to the business climate.
"The revised growth figures support our view that economic recovery in India is under way, albeit pointing to a somewhat faster pace than we, and others, previously believed," Cashin says. "These GDP revisions portray a more resilient performance of the services and manufacturing sectors of the economy."
But while public and private consumption look stronger, he added, investment activity continues to be held back by structural and supply-side constraints.
The IMF will continue to examine the improved GDP methodology and its implications for its growth forecasts, and further details on the compilation methodology will enable a deeper understanding of India's near-term and medium-term growth.
Inflation declining
Inflation has fallen by half to around 5 percent, after hovering around 10 percent for several years. The report commended the Reserve Bank of India (RBI) for its steps to tighten monetary policy by raising interest rates during 2013–2014, as well as the government's efforts to contain food inflation, including by releasing buffer stocks of cereal and keeping agricultural procurement prices in check.
"The government's recent move to introduce a flexible inflation-targeting framework is a clear positive," says Cashin. "It will help deliver low and stable inflation, and diminish the prospect of renewed bouts of high inflation."
More solid fiscal footing
The government has made strong efforts to put its public finances on solid footing, with the central government's fiscal deficit falling to 4.1 percent of GDP in 2014/15, helped by lower oil prices. By creating space for higher infrastructure spending, fiscal reforms can have a major impact on economic growth.
"The government's continuing emphasis on fiscal discipline is commendable," Cashin notes.
The government has recently deregulated diesel prices and raised natural gas prices. The report suggests, however, that tax revenues can be increased, including through better tax administration, and spending controlled through further streamlining of subsidies. In addition, boosting spending on infrastructure, such as roads and ports, electricity transmission, and social spending (public health, education) would improve the quality of expenditure.
In this regard, the report suggests that a national goods and services tax would also help create a single Indian market by replacing a myriad of local levies. The report also encourages the authorities to continue to move toward direct cash transfer payments— helped by India's unique identification system (Aadhaar)—in place of existing subsidies. This would help better targeting of subsidies (which can have large leakages) toward the vulnerable.
Toward a brighter economic picture
Within the next 15 years, India will have the largest, and among the youngest, workforces in the world, and will need to create jobs for the roughly one hundred million young Indians who will enter the job market in the coming decade.
Raising India's growth rate and ensuring it begins to generate sufficient jobs requires deeper structural reforms.
The Indian government's efforts to improve the business climate has gained momentum, including with a "Make in India" campaign to attract investment, says the report. Nonetheless, the country needs to implement reforms in the following key areas:
• addressing bottlenecks in the energy, mining and power sectors;
• increasing investment to help close India's major infrastructure gaps;
• taking further steps to simplify and expedite the process of acquiring land and obtaining environmental clearances;
• reforming the agriculture sector to ensure greater efficiencies in the public system for food procurement, distribution, and storage;
• making labor markets more flexible, to encourage young job-seekers and boost presently low female labor force participation; and
• improving education to meet rising shortages of skilled labor.
"Moving the economy forward in these directions will help India continue along the path toward a brighter economic picture of rapid economic growth and macroeconomic stability for many years to come," Cashin says.