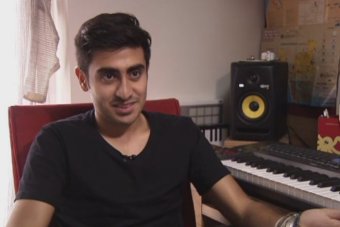 At India's first luxury mall in South Delhi, business is booming.
"We are 100 per cent leased and … there is a request from brands to have additional spaces and we didn't have them," the mall's vice president, Dinaz Madhukar, told 7.30.
Not far from one of Delhi's many heaving slums, where people live without power and water, customers can shop for Jimmy Choo shoes or a Cartier watch for several thousand dollars apiece.
"There is a lot more new money because a lot more people are self employed, even the women are employed and you find that the pay packages are so much better, there is a lot more disposable income," said Dinaz Madhukar.
Aditi Balbir, 36, loves to spend her hard-earned money.
"It goes towards getting things for the home, and my son; he is crazy, he's an absolute shopaholic," she said.
Her son, Adiant, is only seven, but he is the proud owner of dozens of soccer jerseys and uniforms.
Aditi has an impressive wardrobe too. It includes Gucci shoes, Hermes scarfs and many boxes of expensive jewels.
Last year she started her own business, refurbishing old buildings on the outskirts of India's major cities and turning them into resorts.
"We are growing by about four to five resorts every month. With the current funding that we have, we expect to reach about 30 to 35 resorts by the end of this year," she said.
Her customers are exactly like her — young, wealthy and keen to enjoy themselves.
"My whole business is based on this because this class of working people love to travel. Earlier, travel was a discretionary item but I don't think it is anymore," she said.
Aditi was born into a wealthy family, but the vast opportunities for her to make it on her own in India were too good to resist.
"In my generation you see 'start-up' being the buzzword — it is as big a buzzword as being a doctor or engineer was, say, in the older generation," she said.
With wealth comes the expectation of philanthropy
Hindol Sengupta is a journalist at Fortune India magazine. He believes Aditi and those like her are the driving force for India's future.
"The voice of these entrepreneurs will be critical," he said.
"They are the people who will be creating jobs, they are the people who will be creating wealth for people, they are the people who will be creating livelihood, so they have an important stake and an important voice.
"Increasingly, as you see more and more entrepreneurs emerge on the scene, their voices cannot be disregarded and that will have a direct impact on politics and democracy in India."
While India is still home to hundreds of millions of poor people, the number of millionaires is expected to grow by 40 per cent in the next three years to more than 350,000 people.
"It is far, far easier than it has ever been in India's history, at least modern India's history, to become a millionaire," Sengupta said.
But there is also a growing desire to do more than just make money — the new breed want to help put India on the map.
At 20, Shaan Singh has a lot of toys. He has a top-of-the-line set of DJ decks in his bedroom along with dozens of pairs of the latest sneakers.
In his Mumbai driveway is his Mini Cooper.
His parents are wealthy but he has paid for it all himself. He is a young man with big dreams.
"Just to become one of the biggest names and take India forward," he told 7.30.
He is one of India's fastest rising DJs and has played at festivals in India and abroad as well as releasing his own single.
His father, Shailendra Singh, has urged him to go out on his own.
"We are a very young nation of 60 years of independence, so this generation is finally realising it is about creating milestones, it's not about creating riches which is going to give them laurels in their life," he said.
There is hope that the young, rich and successful will use their wealth to help those less fortunate.
"You are seeing more and more pressure bottom up for people to showcase what are you doing with the money," Sengupta said.
"Journalists like myself ask the new billionaires … or millionaires … you've made so much money, what are you doing with your money? How are you making a real difference?"
Shaan Singh says he eventually wants to help people through charity, but for now he hopes to inspire them through his music and believes he and those like him can do big things.
"People are actually believing in the youth now, so I think I am very optimistic of where India is going to go in the coming years.
"India is going to be a power to deal with soon enough."