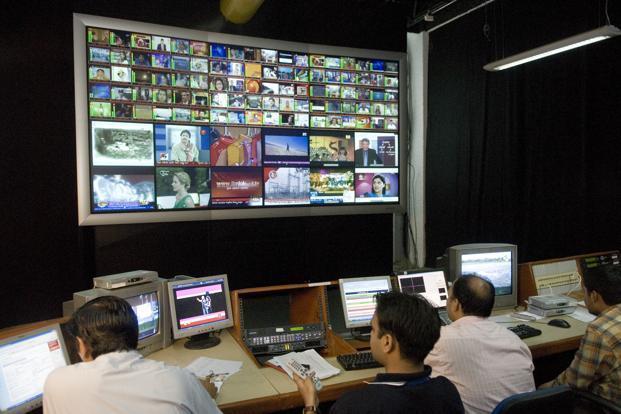 New Delhi: The Indian media and entertainment (M&E) industry is expected to grow at a compounded annual growth rate (CAGR) of 14.3% to touch Rs.2.26 trillion by 2020 with advertising revenues expected to grow at 15.9% to reach Rs.99,400 crore. In 2015, the M&E sector grew at 12.8%, while overall advertising grew at 14.7% over 2014.
Growth for television advertising is projected at a CAGR of 15% between 2015 and 2020, while print media is expected to grow at 8.6%, according to a report by consulting firm KPMG and lobby group Ficci (Federation of Indian Chambers of Commerce and Industry). Titled 'The Future: now streaming', the report was unveiled at the annual media and entertainment industry event Ficci Frames in Mumbai on Wednesday.
Among traditional media, radio will see a growth of 16.9%, while new media or digital advertising is slated for a 33.5% growth during the period between 2015 and 2020, the report said.
"With an advertising growth rate of 17%, 2015 was a phenomenal year for television," said Jehil Thakkar, head, media and entertainment at KPMG, India. "Some Hindi general entertainment channels may even have outperformed the industry with a growth rate of more than 20%," he said. Although TV saw a spike in advertising, subscription revenue for the medium remained muted. According to the report, phase 3 digitisation of cable TV failed to meet its deadline. "…. benefits of phase 1 and phase 2, particularly on ARPU (average revenue per user) have failed to materialise due to a number of on-ground challenges across the distribution chain. This resulted in a slowdown in subscription revenue growth in 2015. Our expectations over the next five years have also been toned down to reflect this delay," the report noted.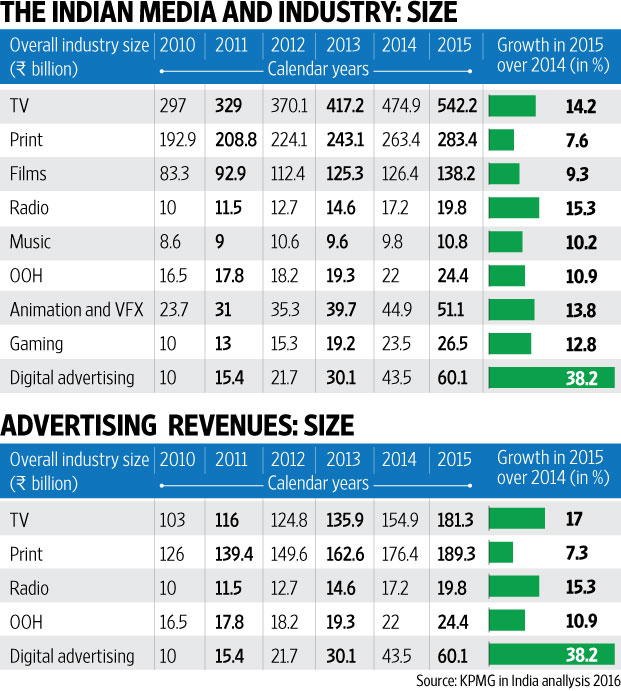 In five years between 2015 and 2020, the overall print industry size will grow at a CAGR of 7.8%. However, its advertising revenue will see a better CAGR at 8.6%.
In 2015 over 2014, print advertising grew at the rate of 7.3%. "Print saw a softer performance in 2015 while 2014 was better as it was the year of general elections," said Thakkar.
Growth for vernacular and Hindi newspapers was also subdued. The Indian hinterland was soft in terms of rural demand for fast moving consumer goods as well as other products, leading to lower advertising growth rate.
However, Thakkar expects regional print media to bounce back since rural demand is expected to grow on the back of good monsoon. Rural markets are expected to revive owing to the government initiatives announced in this budget. These include increased expenditure on the rural jobs programmes, investment in irrigation projects, building roads and electrifying villages.
"Besides, the print media industry is also fixing its problem with the Indian Readership Survey. Availability of a measurement system will also boost the medium," Thakkar said.
As companies increase their focus on tier II and tier III cities, and rural areas, hyperlocalisation is emerging as an effective theme among print players and advertisers, the report said. The newspaper companies were going hyperlocal particularly in markets with lower internet penetration, it added. In 2015, the Dainik Bhaskar group launched the editions of its Hindi daily in Bhagalpur, Muzaffarpur and Gaya in Bihar, having launched a Patna edition in 2014. "The motive of national players entering new markets with more local editions is to provide targeted reach to advertisers," the report said.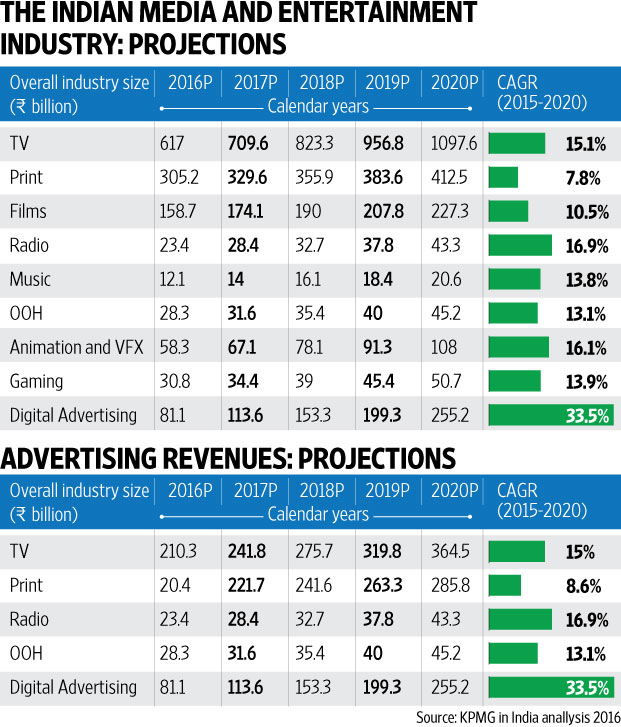 Agreed Vivek Khanna, chief executive of Hindustan Media Ventures Ltd (HMVL), the publisher of the Hindi daily Hindustan: "Hindustan has 140 editions and sub-editions. Kanpur district alone has 12 editions. These are hyperlocal editions catering to very small advertisers."
He said that the Hindi markets have been growing faster than the English language newspaper market for some years. Readership of newspapers is growing as there is lower digital penetration in Hindi speaking markets, the broadband connectivity is poor and the cost of data is high. Availability, affordability and credibility are helping the Hindi newspaper market to expand, Khanna added. HMVL is a subsidiary of HT Media Ltd which publishes Mint.
As far as radio is concerned, it continued its strong run with 15.3% growth in 2015. Following the new stations licensed in phase 3 and consolidation in the industry, radio is transforming from a "coverage" medium to a "reach" platform. Major radio stations have been operating at high ad inventory utilization levels and this, coupled with growing advertiser interest, has helped push up ad rates.
According to the KPMG-Ficci report, digital advertising will continue to grow at a high CAGR of 33.5% with a shift towards video and mobile advertising on the back of increase in mobile users and improved digital infrastructure. By 2020, it is expected that digital advertising will be Rs.25,500 crore and contribute 25.7% to the total advertising revenue.
Rajiv Dingra, chief executive and founder of WATConsult, the digital and social media agency of Dentsu Aegis Network, however, expects digital to grow at a higher rate of 40-45% in the next five years. He attributes such growth to several factors, including the mobile screen becoming the primary screen for the user. Video consumption plus time spent on digital will beat TV consumption, he said. "Although ad expenditure on TV will still remain higher for some more time," Dingra added.
However, challenges to the expansion of digital media will remain. "Government taxes may put pressure in the shorter term, internet penetration and quality in rural areas may be a challenge and internet speeds as the country scales on bandwidth may be an issue," he said.
Similar challenges may affect the growth of OTT or over-the-top platforms in the country, too, said the report. "While there is significant level of interest in building out OTT platforms, viability in the short term remains a concern given bandwidth constraints, high cost of customer acquisition, dependence on advertisement led models and high cost of data access," the report said.
But this could change with the roll out of 4G. The 4G market is expected to be highly competitive and will likely result in lowering of data costs. "Coupled with increased penetration of smartphones, we expect that consumers will become used to viewing content beyond the television screen, paving the way for digital dedicated content and innovative monetization models," the report said.
According to Thakkar, 2015 was a flat year for the Hindi film industry. However, Hollywood films did well in India. Their contribution to box office collection jumped from 4-5% in 2014 to 8-9% in 2015. What worked for Hollywood were the action and superhero films.
In sports, cricket continues to be the primary driver of viewership, with marquee properties such as the Indian Premier League and the World Cup witnessing growth in both ad rates and sponsorships. However, the last couple of years have seen the launch of various sporting leagues across sports such as kabbadi, football and tennis, among others.
As ownership of cricket as a platform becomes more expensive, brands are likely to start investing in other sports, the report said. But building non-cricket sporting leagues requires long-term vision and investing strategy, it added.
The report concluded that although there is continued robust domestic demand and strong advertiser interest in the media and entertainment sector, matters that need to be addressed include completion of cable digitization and FM radio batch 2 auctions under phase 3, among others.