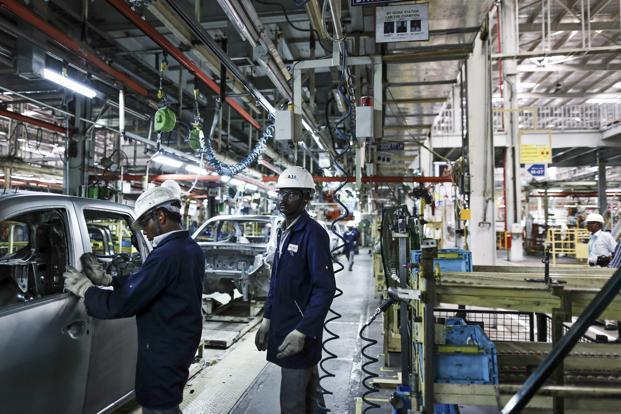 Mumbai: Car makers in India, particularly those that haven't benefitted from a pick-up in domestic demand, are aggressively pushing exports to improve capacity utilization at their manufacturing facilities.
On Tuesday, the local arm of Volkswagen AG said it had introduced an extra shift at its Pune plant to meet higher demand for exports as it begins production of the Ameo compact sedan.
On 22 March, Renault Nissan Automotive India Pvt. Ltd, said it plans to introduce a third production shift at its Chennai facility in response to strong demand for its current line-up and meet export demand.
Car exports from India have remained strong over the last decade, and analysts expect the momentum to continue, even as overseas demand in other sectors has slowed owing to global headwinds.
Among other factors, a well-diversified geographic spread will hold the automobile industry in good stead, said Sudarshan Shreenivas, associate director at India Ratings and Research, a Fitch Group firm.
He cautions that Africa's growing share in Indian car exports is a concern. The end of the commodity super cycle has hurt Africa's foreign exchange revenue—in turn, denting the local demand.
At Volkswagen India Pvt. Ltd, the addition of a third shift will allow the company to push up production beyond the 130,000 units that can be produced across two shifts. Volkswagen India expects to increase its production by around 15% in 2016 compared to last year.
"In 2016, we are expecting growth in our domestic as well as export volumes," said Andreas Lauermann, president and managing director, Volkswagen India. With the new Ameo, a car that has been specially developed for India, the company is expecting higher demand from both the domestic and export markets, Lauermann added.
The maker of Polo and Vento cars has consistently been shipping more models than it sells in India. In the 11 months to February, it exported 68,224 units, up 12% from a year ago, while sales in the domestic market dropped 7.2% to 37,526 units in the same period.
Even Nissan Motor India Pvt. Ltd, the largest exporter of cars from India after Hyundai Motor India Ltd, has been stepping up overseas shipments to make up for poor sales in India.
In the 11 months to February, Nissan India exported 101,869 units, down 7% from a year ago; sales in the domestic market fell 18.12% to 35,011 units.
"Increasing our production capability means we will be able to better meet the demands of our Indian and overseas customers by limiting waiting times on deliveries," Colin MacDonald, chief executive officer and managing director at Renault Nissan Automotive India Pvt. Ltd, said in a 22 March statement.
Exports at the local arms of General Motors Co. (GM) and Ford Motor Co. have also outnumbered sales in the domestic market. Ford India shipped 97,202 units in the 11-month period to February, up 36% from a year ago. It sold 72,384 units in India, up 3%, in the same period.
GM exported 30,090 units in the 11 months—a 16-fold jump over the year-ago period.Domestic sales at the firm dropped 38% to 29,496.
A spokesperson at Ford India Pvt Ltd did not respond to calls.
An email sent to Hyundai India on Wednesday remained unanswered.
India Ratings's Shreenivas said exports to destinations such as the US and Europe will remain strong as car makers shift production to emerging markets, such as India, to pare costs.
He, however, said an increase in the share of regions like Africa and Latin America in the overall export pie was worrisome.
"Markets like Africa and Latin America are both an opportunity and challenge," Shreenivas said, adding that the crude oil price slump was taking a toll on economies in those regions.