The Indian government, which is executing the Delhi-Mumbai Industrial Corridor project at a total investment of $90 billion, is looking at private financing agencies for implementation of the project, according to a senior government official.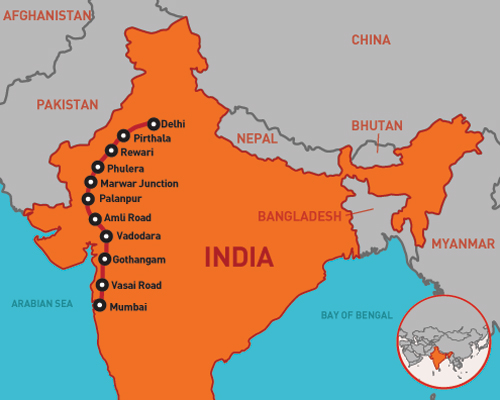 Pointing out that the foreign direct investment to India went up by 40 per cent in the last two years, Alkesh K. Sharma, CEO and Managing Director, Delhi-Mumbai Industrial Corridor Development Corporation (DMICDC), told the Sixth Asian Development Forum here on Friday that "the government of India is on a reform mode." In the case of the Delhi-Mumbai project, there had been challenges of planning and land acquisition, which "we have been able to overcome." A "robust instrument" of public-private partnership was in place with a legal framework for investment protection.
There would be four more corridor projects – Bengaluru-Mumbai ($100 billion), Amritsar-Kolkata ($46 billion), Chennai-Bengaluru ($35 billion) and Chennai-Visakhapatnam. In respect of the last project, the figure for investment was being worked out.
Among the ingredients of the Delhi-Mumbai project were a dedicated freight corridor (1,504 km) and 24 investment regions/industrial areas, apart from developing "sustainable industrial cities with world-class infrastructure." The Indian government had set apart $4.5 billion for developing "base infrastructure" such as roads, water and power supply.
Later, he told The Hindu that the Japan International Cooperation Agency (JICA) would provide $10 billion for Delhi Mumbai and Chennai Bengaluru. In respect of the Chennai-Visakhapatnam corridor, the Indian government approved a project loan of $500 million from the Asian Development Bank (ADB), apart from clearing another ADB loan of $125 million to the Andhra Pradesh government.
As part of the Delhi-Mumbai project, Dholera, about 70 km south of Ahmedabad, would have a greenfield airport and Alwar in Rajasthan – an aerotropolis [which refers to a city to be developed around an airport]. The two facilities had been proposed as it was expected that the existing Ahmedabad and Delhi airports would reach saturation by 2021-2022.
As for the Chennai-Bengaluru project, Tumkur (Karnataka); Ponneri (Tamil Nadu) and Krishnapatnam (Andhra Pradesh) had been identified for developing nodes. The availability of land in all the places had been assured, Mr. Sharma added.