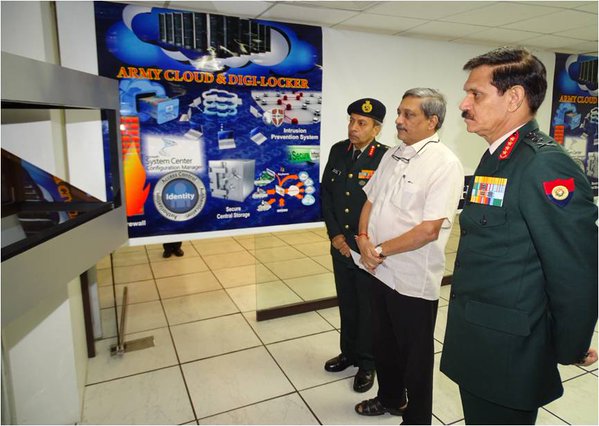 In a bid to digitize and automate processes, procedures and services for the Indian Army, the Union government on Monday launched a dedicated cloud and digital lockers for defence personnel under its Digital Army programme.
This is in line with the National Democratic Alliance (NDA) government's flagship programme Digital India, which aims to ensure that government services are available to citizens over the Internet.
Digital India is an umbrella programme seeking to build digital infrastructure, provide government service on the web and mobile platforms and digitally empower all citizens with an estimated investment of Rs.1.13 trillion over the next three to five years.
The army cloud infrastructure includes two data centres, both located in Delhi, and a disaster recovery site for replication of critical data using virtualized servers and storage in secure facility.
This is similar to Meghraj, the national cloud initiative which provides a secure and unified cyberspace for shared government services and infrastructure, provides IT resources on demand, and optimizes utilization of IT infrastructure and resources for government departments.
The army cloud will provide IT infrastructure including servers for computing, storage, network and network security equipment centrally, for the automation of the Indian Army, the defence ministry said in a Press Information Bureau statement.
The central data centre will be a software-defined data centre (SDDC)—a data centre that is automated by intelligent software systems. These are more secure and normally deployed for mission-critical enterprise workloads.
"It (SDDC) has already started providing Infrastructure as a Service (IaaS) to the pan Army users as the first Cloud service and will soon provide Software as a Service (SaaS)," the statement said.
Defence minister Manohar Parrikar said that there is a need to educate and sensitize personnel in the force on the advantages of such services and technology upgradation, while focusing on maintaining, checking and securing the system.
A Digi-Locker scheme was also initiated for army officials in order to provide a secure and exclusive data storage space to all the units and the army headquarters over its dedicated data network. Users can store, share and access the data from anywhere any time on the army data network.
The Digi-Locker of the Indian Army is similar to the e-Locker of the Digital India programme, which allows citizens to store important files and authenticate them online using an Aadhaar number.
"This is an important step towards implementation of cyber security as it precludes carriage of soft copies of data on CDs/DVDs and removable media," the statement said. "The infrastructure and platforms being made available for automation and digitisation will catalyse the pace of digitisation in all branches of Army and is a landmark towards transforming Indian Army from platform centric to a Network Centric Force, which would leverage the technology as a force multiplier."