Perceptions of New Delhi are on the rise in its neighborhood.
By Neelam Deo and Karan Pradhan
June 16, 2015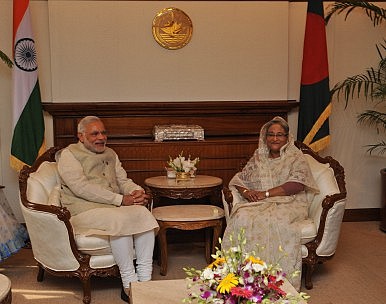 Prime Minister Narendra Modi's visit to Bangladesh on June 6-7 completes his arc of reaching out to India's neighbors in South Asia.
But, for now, two exceptions remain—the Maldives, where former president Mohamed Nasheed has been imprisoned, and Pakistan. With both countries, India's relations are at a low point. Despite these exceptions, the year-old Bharatiya Janata Party government has clearly demonstrated that India's neighborhood foreign policy is a priority.
This new focus has replaced India's past reticence in engaging with its neighbors—a holding back that was misplaced, as is evident from the warm welcome given to Modi, both by the people and by the parliaments, in Nepal, Bangladesh, Sri Lanka, and Bhutan.
With their enthusiastic responses, and the signing of numerous agreements and project deals, India's neighbors too have made it clear that they prefer a proactive and supportive India—and that the alleged big brother of the past was a misapprehension.
Modi has also emphasized the importance of bipartisan support in his foreign policy by drawing in the leaders of the opposition—he met former president Mahinda Rakapakse of Sri Lanka and former prime minister Khaleda Zia of Bangladesh. Both meetings were reportedly "positive", and a departure from the past—in March 2013, for example, Khaleda Zia had turned down an invitation to meet President Pranab Mukherjee.
During Modi's visits, various agreements have been announced or concluded—including the June 2014 deal to develop hydroelectric power along with Bhutan and start the Kholongchu Hydro-electric project; the November 2014 $1 billion agreement for Indian company SJVN to build a hydropower station in Nepal; and the assurance in March 2015 to develop Trincomalee as a petroleum hub. All of them signal that a positive approach on both sides can bring substantive gains for the neighborhood.
India has also extended lines of credit ranging from $318 million for the development of Sri Lanka's railways, to $2 billion to Bangladesh for improving rail and road connectivity. But clearly this is just a start—with tremendous potential for more if the governments of India and its neighbors avoid politicizing the conversation, and remain pragmatic about the benefits of a cooperative approach.
This progress has been possible in part also due to a shift—brought about by changes in government as well as in perception—in the attitude of neighboring countries towards India's past actions. In Sri Lanka, for example, a memorial to the Indian Peace Keeping Force (IPKF) was constructed in Colombo in 2008 in memory of those who fought for Sri Lanka from 1987-1990.
Similarly, India's contribution to Bangladesh's Independence was recognized with the Award of Liberation War Honor, conferred on former prime minister Atal Behari Vajpayee during Modi's visit; Indira Gandhi was similarly (posthumously) honored in 2012. Bangladesh's recent acknowledgement of India's role in its liberation in 1971 is in contrast to its earlier dismissal of these efforts as New Delhi's agenda to split Pakistan.
Taking further this process of building bilateral bridges, the line of credit extended to Bangladesh by Modi during his visit will augment the $800 million of 2010 to build rail and road networks. Connectivity to and through Bangladesh is crucial for linking India to its Northeast and beyond into ASEAN countries through Myanmar. India's maritime connectivity with its Northeastern states will also improve with the recent agreement to allow Indian cargo ships to use Bangladesh's Mongla and Chittagong ports.
The ratification of the Land Boundary Agreement (LBA) after more than 40 years is an encouraging start, but both countries must now work consistently to address the problems created by a long unsettled border—smuggling, trafficking, and illegal immigration—in order to gain from the economic and people-to-people exchanges that can come from a cooperatively-managed border.
Modi will now have to strike a fine balance between the Center and the states in India's relations with its neighbors. This is an inescapable aspect of cooperative federalism—it is not possible to implement the LBA without the support of governments of the states where the Border Security Force will have to work to implement the agreement on the ground along with the local law and order authorities.
As a federation, the views of individual states in India may vary. For now, West Bengal chief minister Mamata Banerjee and the BJP-led opposition in Assam have agreed to the LBA. But the chief minister of Assam, Tarun Gogoi, is concerned that he and the chief ministers of Meghalaya, Tripura, and Mizoram—all states that also border Bangladesh—were not included in the prime minister's delegation to Dhaka.
While the LBA, despite these difficulties, is moving forward, it will take even more balancing and time to accommodate the state governments in India on the crucial issue of sharing the waters of the rivers that flow into Bangladesh through the Indian states of Sikkim, West Bengal, and Bihar. The rivers impact the livelihoods of the farmers of both countries, and neither side is ready to cede ground.
Solutions to the process of water-sharing may emerge when the benefits of a fixed boundary begin to be apparent. For that to eventually happen, New Delhi must also consider Dhaka's role in the water-sharing equations of the broader region, which includes China. Both India and Bangladesh are lower riparian countries (relative to China), and if both are united in taking up water-sharing issues with China, it may generate international support and a positive response from China.
On the question of trade, India must be sensitive to Bangladesh's concerns about the deficit of over $ 5 billion, in a total trade relationship of $ 7 billion. India can, for example, invest in Bangladesh through a SEZ—as Bangladesh has offered—to start mitigating the deficit.
The Sheikh Hasina government's positive response to India's security concerns (it has repatriated separatists engaging in anti-India activities), among other measures, sets the stage for further cooperation. Over time, this can set the wheels in motion for sub-regional ideas, such as cooperation between India, Bangladesh, Thailand, and Myanmar on the security of the Bay of Bengal.
Progress can be made on the Bangladesh-China-India-Myanmar Economic Corridor, which has been discussed for many years. The corridor requires an infrastructure build-out that will contribute to growth in the sub-regional economy, and, in time, expand Modi's "neighborhood first" policy to "Act East," through Myanmar, with ASEAN countries.
Neelam Deo is Co-founder and Director, Gateway House: Indian Council on Global Relations; She has been the Indian Ambassador to Denmark and Ivory Coast; and former Consul General in New York. Karan Pradhan is a Senior Researcher at Gateway House: Indian Council on Global Relations. This article was originally published at Gateway House: Indian Council on Global Relations, a foreign policy think tank in Mumbai, India, established to engage India's leading corporations and individuals in debate and scholarship on India's foreign policy and the nation's role in global affairs.