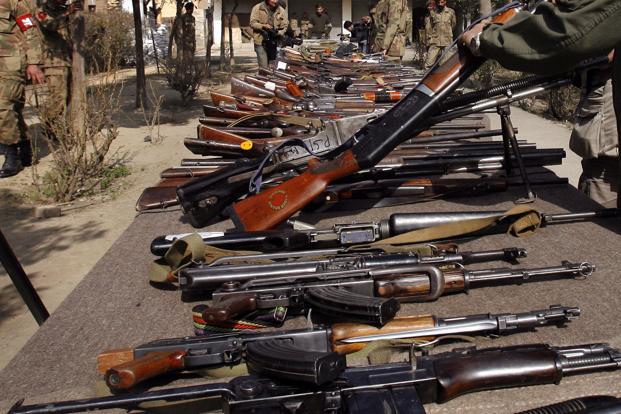 New Delhi: India's first defence procurement policy under Prime Minister Narendra Modi is set to bolster domestic arms manufacturing in the world's biggest importer of weapons.
Modi is seeking to modernize the nation's sometimes poorly equipped forces, curb purchases from abroad and accelerate the development of a defence-industrial complex. The procurement policy, reviewed about every two years, is due to be published soon, defence minister Manohar Parrikar said on 18 December.
A study of defence ministry reports offers clues to the policy. They signal a goal of streamlining and quickening weapons acquisition, as Modi takes a firmer stance in security disputes with neighbours China and Pakistan.
Among the probable steps:
— Selecting private-sector companies as strategic defence contractors. A panel set up by Parrikar recommended in July that India should select local strategic partners in warship, military aircraft, armored vehicle and missile manufacturing. Another committee is deciding selection criteria.
"Under the concept, the government will choose the strategic partners from the private sector, hand-hold them and give them long-term orders," India's defence production secretary A. K. Gupta said in New Delhi on 7 December.
— Easing so-called offset rules. These require foreign manufacturers of larger orders to recycle some of the price paid back to India by getting parts or services from domestic businesses. Companies have said that's not always feasible for complex weapons. About Rs.29,300 crore of offset contracts are under implementation, defence ministry data shows.
"Offset implementation has been one of the major issues with foreign original equipment manufacturers as far as doing business in India is concerned," Gupta said. "We've undertaken the task of a significant overhauling of the process."
— Allowing agents. Companies must deal directly with the government as defence agents are banned under current rules over fears they could boost the scope for graft. That makes it tougher for arms manufacturers without a local office to do business.
The revised procurement policy may allow agents if fees are reasonable and declared, Parrikar said in a November interview with the Press Trust of India. Their role is in the process of being "defined properly," he was quoted as saying.
Nitin Wakankar, a spokesman for India's defence ministry, declined to comment as the process of revising the defence procurement procedure is still in progress.
While the revised defence policy could be a "game changer," fast decision-making is critical for greater participation by private industry in defense, according to Anurag Garg, a director at PricewaterhouseCoopers India.
"Strategic partnership is a very positive step in providing demand visibility to credible private sector companies, and will ensure that they are able to invest in capability building in assigned platforms and not hold back due to gross uncertainties and market risks," Garg said.
Modi has cleared $65 billion of arms purchases since taking power in May 2014, including most recently about $4.5 billion of Russian weapons. Companies ranging from Tata Sons Ltd to Anil Ambani's Pipavav Defence and Offshore Engineering Co. are seeking to benefit from the government's drive for modernization and more local production.