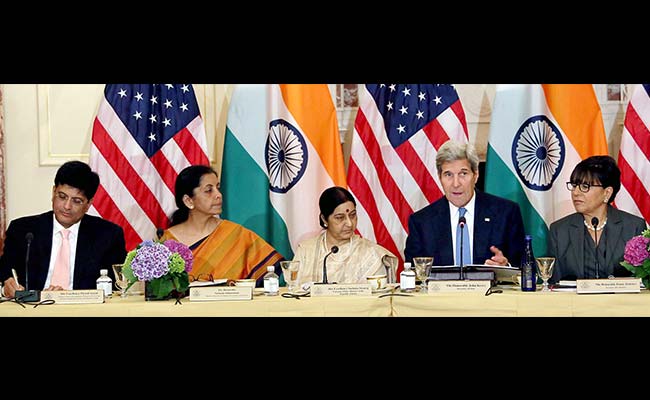 WASHINGTON: India and the US have signed a significant MoU on energy security, climate change and clean energy which Secretary of State John Kerry said reflects the commitment of the two countries to make the Paris summit later this year a success.
"We have concluded a very significant Memorandum of Understanding on energy security, climate change, and clean energy," Mr Kerry said at a joint news conference with his Indian counterpart Sushma Swaraj, US Commerce Secretary Penny Pritzker and Commerce Minister Nirmala Sitharaman.
India's commitment to reach 175 gigawatts of renewable energy by 2022 is the world's most ambitious target in the area of renewables, Mr Kerry said referring to the goal set by Prime Minister Narendra Modi.
American companies and research institutions are committed to help India achieve that goal, he said.
"We're also launching a Fulbright Climate Fellowship programme to facilitate the exchange of key research information," he said.
Mr Kerry said both India and the United States are "firmly committed" to reaching a truly meaningful, truly comprehensive and truly ambitious climate agreement in Paris later this year.
"That is absolutely critical and reflects the responsibility of world leaders to show the way on problems that profoundly affect not just our countries but all of the citizens of this planet," he said.
Energy and climate change are two of the many issues on which the two governments made progress over the last couple of days, Mr Kerry said referring to series of meetings that took place between officials of the two countries over the past few days and in particular at the inaugural Strategic and Commercial Dialogue being held at the State Department headquarters.
"For example, our governments are leading on efforts with 21 other nations to end preventable maternal and child deaths.
Our hope is that this initiative will spell the difference between life or death for millions of children and for women between now and the end of the decade," he said.
Mrs Swaraj told reporters that India recognises climate change as one of the most pressing challenges.
"We have agreed to maintain close consultation in the run-up to the COP 21, the Paris conference of parties under the UN Framework Convention on Climate Change," she said.
"We are also looking at an early extension of the US-India Technology Safeguards Agreement to facilitate US satellite components on Indian commercial space-launch vehicles for another 10 years," Mrs Swaraj said.